Grazing Tables: Delicious Ideas & How To Make Your Own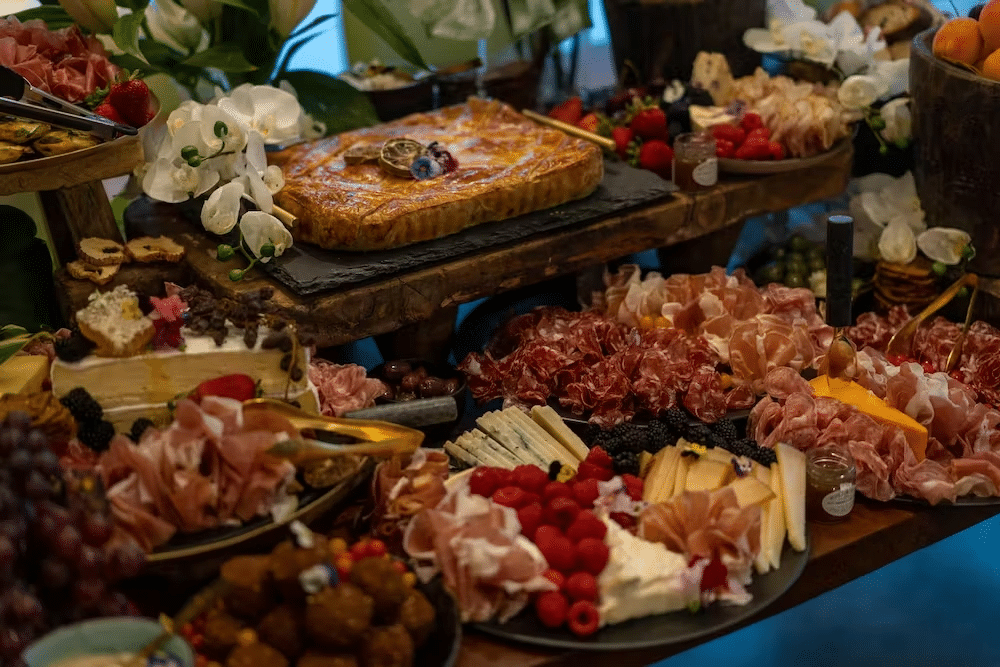 Grazing tables are the perfect way to make any gathering feel special. Whether you're hosting a backyard barbecue, brunch, vegan feast, or pizza party, a grazing table will surely be a hit!
With ideas and tips on how to make your own grazing table, you'll soon be impressing your guests with an enticing spread of delicious food. Let the feasting begin!
The Type Of Grazing Table You Want Matters
When it comes to creating the perfect grazing table, the possibilities are endless. Do you want a savoury charcuterie board, a vegan feast or a sweet dessert table? Each type of grazing table will require different ingredients and preparation.
For example, a charcuterie board may need cured meats, cheese, olives and pickles. On the other hand, for a vegan feast, you may opt for hummus and crudites, roasted vegetables, nuts and seeds.
And for those with a sweet tooth – think fresh fruit platters with honeycomb or mini desserts like cupcakes and brownies. Once you know what type of grazing table you would like to make, it's time to put together your shopping list!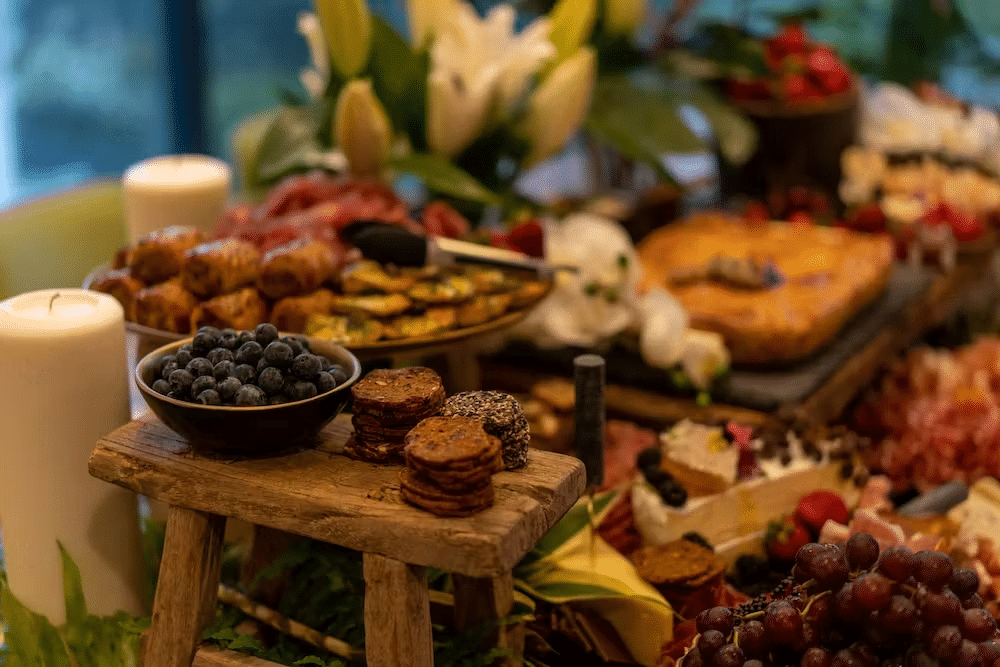 The key to a successful grazing table is all about the presentation. From rustic wood boards and slates to white marble trays with gold cutlery, there are so many ways you can style your table. Your aim should be to make it look as visually appealing as possible.
Think about adding texture with plants or flowers, using tiered platters to create height and layering different food colours. You can also add colour by wrapping fresh herbs around cheese, arranging fruits in geometric shapes or adding edible petals on top of the platters.
Finally, don't forget to light your table up! Candles or fairy lights will give your grazing table an extra magic touch and make it look even more mouth-watering!
A brunch grazing table is a perfect way to start your gathering. Not only is it a great way to feed your guests, but it also adds colour and texture to the occasion. Start by sourcing fresh pastries, bagels, fruits and buns, and spreads like jams and chutneys for added flavour.
You can also include options like smoked salmon or avocado toast for something more substantial. You could add mini pancakes or French toast with maple syrup and berries to impress your guests. Finally, don't forget to add pops of colour with edible flowers and herbs.
Style your table with rustic wood boards and slates, white marble trays with gold cutlery and candles or fairy lights – this will give your grazing table an extra touch of charm!
A vegan grazing table is the perfect way to cater for your vegan guests. Start by sourcing various plant-based products like hummus, falafel and avocado dip. You could also add crudites such as carrots and celery sticks with bell peppers, mushrooms and cherry tomatoes.
For something heartier, include vegan cheese slices, olives, and artichokes. Finally, don't forget to add edible flowers for added colour and freshness and some crackers or bread for dipping. Style your table with a mix of rustic wood boards and slates or white marble trays with gold cutlery – this will give your grazing table an extra touch of elegance!
Creating a pizza party table is the perfect way to keep your guests happy and entertained. Start by selecting an array of pizzas from your local pizzerias, such as classic margarita, four cheese or veggie. Place the pizzas on rustic wood boards and slates to give your grazing table a rustic feel.
Add small dishes of olives, peppers and artichoke hearts for those who want something extra on their pizza. Provide bottles of Italian beer or Prosecco for drinks to help guests wash down the delicious slices.
Finally, finish off your table with small bowls of basil leaves and extra virgin olive oil for those who like a bit more flavour in their pizza. With this setup, you will surely have a pizza party that everyone will enjoy!
How Much Food Will You Need?
It's important to plan ahead and ensure you have enough food for your guests. Generally, the amount of food you will need will depend on the size of your gathering and when you're serving the grazing table.
For example, if it's for an evening buffet, you'll want a more substantial table instead of something like bacon rolls. At a minimum, plan out 2-3 slices of meat per person and roughly 30-60g of cheese.
Additionally, if there are larger appetites or for a later feast in the evening where not much food is needed, extras can be added to your grazing table. Working with a caterer is also helpful in figuring out the best option for your guests. By researching and planning, you should be able to provide enough food at your next grazing table event!
Overall, grazing tables can add a unique and memorable touch to events, providing both aesthetic and practical benefits. They are a great way to unite people and create a fun and engaging experience for everyone present.
So, with the tips we gave you, you can now make your own grazing table when you host parties and events!
What does a grazing table consist of?
Grazing tables often take shape as a massive charcuterie board or spread of antipasti laden with meats, cheeses, olives, and a selection of loaves of bread. Fresh fruits, dips, nuts, and crackers are also traditionally incorporated.
What is the purpose of a grazing table?
A "Grazing Table" is a tablescape filled with artfully arranged meats, cheese, crudités, antipasti, seasonal fruits, vegetables, flowers, decorations, serving utensils, and dishes. It's a relaxed way for you and your guests to mingle without actually cooking and preparing a formal meal.
Are charcuterie and grazing tables the same?
Grazing boards are more inclusive in that you can fill them with sweet and salty snacks. Meanwhile, a charcuterie board focuses on introducing a variety of tastes and textures, albeit leaning more towards savoury food. You can distinguish a charcuterie from a grazing platter by adding olives, jams, and bread.