Grazing Table Ideas To Add Playful Tastes To Your Event!
This article will explore the ultimate grazing table ideas that will make your guests go wild! From sweet to savoury, we've got you covered with various grazing table ideas that will leave your guests in awe. There's something about a beautifully curated grazing table that elevates any party or gathering.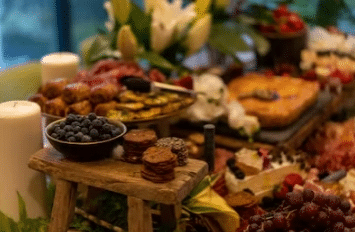 And let's face it, who doesn't love snacking on delicious treats while catching up with friends and family?
Setting The Mood And Ambience
When it comes to hosting an event or party, creating the right mood and ambience can be just as important as the food and drinks you serve.
The grazing table is one popular trend that's been gaining popularity recently. These tables are a style of food presentation that involves setting out various foods on a large table or board, encouraging guests to graze and mingle throughout the event.
When it comes to setting the mood and ambience for a grazing table, one of the most effective ways to do so is by catering to a specific theme. You can create a cohesive and visually appealing display that will impress your guests by choosing a theme.
Whether you're hosting an intimate gathering or a large event, catering to a theme can help elevate your grazing table from ordinary to extraordinary.
One way to cater to a theme is by selecting foods that reflect the colours of your chosen theme. For example, if you're hosting an autumn-themed event, you might include warm shades of orange and brown in your food choices, such as roasted sweet potato wedges or pumpkin hummus served with carrot sticks.
Similarly, for winter-themed events, incorporating cool blues and greens into your grazing table through dishes like smoked salmon crostini or avocado toast topped with microgreens can add an elegant touch.
Decorating with candles can be a perfect way to set the mood and ambience of your grazing table. Candles are inexpensive and versatile decorations that can enhance the overall aesthetic appeal of any event. They add warmth, light, and a touch of sophistication to your table setting.
To start decorating your grazing table with candles, consider using different shapes and sizes of candles. Mix pillar candles with votives or tea lights for a diverse look that creates depth in the arrangement. Another great idea is to use candle holders made from various materials like glass, metal or ceramics to create interest in textures.
Once you have selected your desired candle type, arrange them on platters or trays around the food items on your grazing table. You could also place them between floral arrangements or greenery for an added touch of elegance.
Adding a bed of greenery is one way to create a stunning visual display and enhance the appeal of your grazing table. The lush foliage adds depth and texture to the table and creates an inviting atmosphere.
Adding greenery can be done in various ways. You can use eucalyptus leaves, ferns, or even palm fronds to create a natural-looking bed that complements your chosen colour scheme. 
For example, if you're going for an earthy feel, you could use dark greens like forest green or olive branches. Opt for lighter shades like mint or sage if you prefer something brighter.
When it comes to hosting a party or event, creating a grazing table is one of the most popular ways to serve food. This type of presentation allows guests to pick and choose their favourite snacks and appetisers while providing a visually stunning display that can act as a centrepiece for any occasion.
A BBQ grazing table is perfect for your next summer party or outdoor gathering. This type of grazing table is about incorporating delicious barbecued meats and vegetables into your spread, along with other tasty snacks and sides.
Think beyond traditional burgers and hot dogs regarding the meats on your BBQ grazing table. Consider grilling marinated chicken kebabs, juicy flank steak, or smoked brisket.
Alongside your barbecued offerings, include plenty of fresh fruits and veggies to balance the meat-heavy dishes. For vegetarians, grilled portobello mushrooms or vegetable skewers are great options.
Add some variety to the spread by including different types of sausages like bratwursts or chorizo.
Consider including a variety of fresh fruits and vegetables. You can create colourful displays using sliced watermelon, berries, grapes, carrots, cucumbers and bell peppers. These items not only look beautiful, but they also add crunch and freshness to your grazing table.
Next, don't forget about the dips! Hummus is always a crowd-pleaser but you could also include guacamole or salsa for more exciting flavour combinations. Additionally, nut butter spreads like almond butter or cashew cheese would be perfect additions to any vegan grazing table.
To start creating your dessert grazing table, choose the theme you want to go for. It could be anything from classic desserts like cupcakes and cookies to elaborate treats like macarons and eclairs.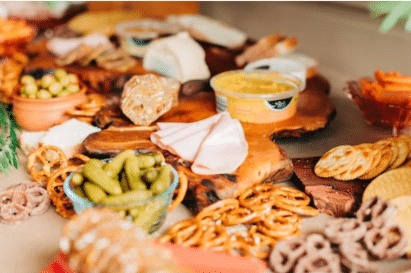 Then select a variety of flavours and textures that will complement each other nicely. Some popular choices include chocolate-covered fruit such as strawberries or pineapple chunks, mini cheesecakes, brownies or blondies with nuts or caramel drizzle on top.
In conclusion, grazing tables are the ultimate crowd-pleaser and a must-have for any event. These beautifully arranged tables offer an array of delicious foods that cater to everyone's taste buds.
Whether hosting a wedding, corporate event or birthday party, a grazing table is the perfect way to impress your guests.
How do I ensure the items on the grazing table remain fresh?
One way to ensure that the items on the grazing table remain fresh is to rotate them. This will help to prevent any one item from becoming stale or gross.
Additionally, cleaning the table regularly is important so bacteria do not build up.
What types of drinks pair well with grazing tables?
Many types of drinks pair well with grazing tables. For example, a drink like iced tea or iced coffee can be enjoyed while people are taking their time to look over the menu and decide what to order. 
Another great option is a mixed drink like a margarita or cosmopolitan. These cocktails are light and easy to drink, so they are perfect for sipping while people decide what to eat.
Finally, some people enjoy beer or wine with their food. Whether eating a burger or sampling some tapas, having a drink with their meal helps to enhance the experience.
What decorations or garnishes can I use to make my grazing table unique?
You can do a few things to make your grazing table more unique. You could add some fresh flowers, a vase of fresh-cut flowers, or a small statue or figurine of a favourite animal. 
You could also add decorative items like placemats, napkins, or coasters. Whatever you choose, make sure it's something that will make your table stand out and add a little bit of personality to your mealtime experience.