Afternoon tea sandwiches catering London: Elevate you experience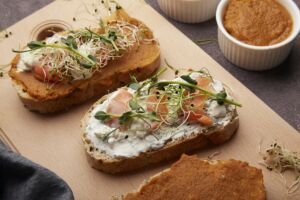 Aesthetic sandwiches with zucchini and cream cheese spread, alfalfa, sprouted peas, salmon
Introduction: The Timeless Tradition of Afternoon Tea
The history of afternoon tea and traditional tea sandwiches to elevate your events success.
Indulge in the timeless tradition of afternoon tea and elevate your experience with exquisite sandwiches. Whether you are hosting a special event, corporate gathering, or simply looking to add a touch of elegance to your afternoon tea party, these delectable sandwiches are the perfect choice for catering. Trust us there is no better way to compliment vintage tea with our easy to order sandwiches.
Afternoon tea has long been cherished as a quintessential British tradition, known for its delicate finger sandwiches served alongside scones, pastries, and a variety of teas. It is an occasion to relax, socialize, and enjoy the finer things in life. And what better way to enhance this experience than with carefully crafted sandwiches that showcase the finest ingredients and flavors? Some of our speciality sandwiches include
Egg and watercress
High tea Prawn Mayonnaise sandwiches
Smoked salmon and cream cheese
Delicious afternoon tea cheese and ham sandwiches
Afternoon Tea sandwich catering by Pearl Lemon Catering
Our catering service understands the importance of providing an exceptional afternoon tea experience. We take pride in creating sandwiches that not only look visually appealing but also tantalize your taste buds. From classic combinations like cucumber and cream cheese to more adventurous options like smoked salmon with dill-infused butter, our sandwich selection caters to every palate.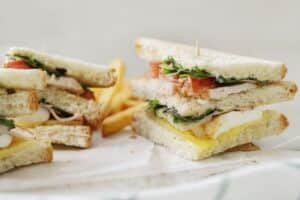 Each sandwich is meticulously prepared using freshly baked breads and premium fillings sourced from local suppliers who share our commitment to quality. Our skilled chefs pay attention to every detail – from the perfect bread-to-filling ratio to the precision in cutting each sandwich into elegant bite-sized portions.
Whether you are hosting an intimate gathering or a large-scale event, our catering service ensures that your afternoon tea is nothing short of extraordinary. We offer customizable menus tailored to your preferences and dietary requirements so that every guest can savor our delectable creations.
So why settle for ordinary when you can elevate your afternoon tea experience with exquisite sandwiches? Contact us today to discuss how we can make your next event truly memorable with our impeccable catering service.
We cater for all types of events including
With nothing but amazing feedback we would definitely recommend our sandwiches and scones for a combination of sweet and savoury delights. Call us today for details to see a personalised list of menu items available for your event.
Afternoon Tea Finger Sandwiches
The Importance of Sandwiches in Afternoon Tea Catering
Afternoon tea catering by Pearl Lemon Catering offers tea party food, finger sandwiches, sandwich platters fit for the finest selection of guests. Our catering food to order is carefully prepped to the highest standard. Afternoon tea delivery is also available for guests looking to order on demand from Pearl Lemon Catering. We can assist with all aspects including crockery and any other complimentary menu. When looking to hire afternoon tea caterer then always ensure they are reputable and most of all reliable. Our personalised list of afternoon tea selections can be viewed below and all selections are available with vintage crockery upon request to give you the best afternoon tea experiences available.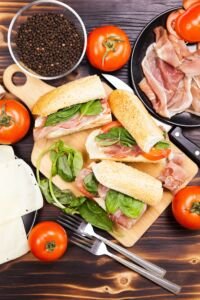 1. The Classic Selection:
Cucumber and Cream Cheese: A refreshing combination of crisp cucumber slices and smooth cream cheese.

Egg Salad: Creamy egg salad with a hint of mustard and fresh herbs.

Smoked Salmon: Delicate smoked salmon layered with creamy dill spread.
2. Gourmet Delights:
Brie and Fig Jam: Creamy brie cheese paired with sweet fig jam for a sophisticated twist.

Pesto Chicken: Grilled chicken marinated in pesto sauce, topped with sundried tomatoes.

Roast Beef and Horseradish: Tender roast beef slices complemented by zesty horseradish spread.
3. Vegetarian Options:
Mediterranean Veggie Wrap: Colorful assortment of grilled vegetables wrapped in a soft tortilla.

Hummus and Roasted Pepper: Creamy hummus combined with roasted red peppers for a flavorful vegetarian delight.

Caprese: Fresh mozzarella, juicy tomatoes, and fragrant basil leaves drizzled with balsamic glaze.
Making the Right Catering Choice for Your Afternoon Tea sandwiches catering
afternoon tea catering services with sandwich platter catering and tea party catering.
When it comes to planning an afternoon tea event, one of the most important decisions you'll need to make is choosing the right catering option. The catering choice can greatly impact the success and enjoyment of your event. From menu selection to accommodating dietary restrictions and ensuring a visually appealing presentation, there are several factors to consider.
First and foremost, it's crucial to select a catering service that specializes in afternoon tea events. This ensures that they have the expertise and experience necessary to deliver a high-quality tea experience. Look for caterers who offer a variety of tea options, including both traditional and unique blends, as well as an assortment of finger sandwiches, scones, pastries, and other delectable treats.
Another key consideration is accommodating dietary restrictions. It's essential to work with a caterer who can accommodate various dietary needs such as vegetarian, vegan, gluten-free, or allergies. This ensures that all guests can enjoy the afternoon tea without any concerns or limitations.
In addition to the menu selection and dietary accommodations, the presentation of the food is also crucial in creating an inviting atmosphere for your guests. Aesthetics play a significant role in afternoon tea events. Look for caterers who pay attention to detail when it comes to food presentation – from elegant tiered trays displaying dainty sandwiches and pastries to beautifully arranged teapots and fine china.
By making the right catering choice for your afternoon tea event – one that offers a diverse menu selection while accommodating dietary restrictions and presenting food with finesse – you can ensure that your guests will have an unforgettable experience filled with delicious flavors and visual delights.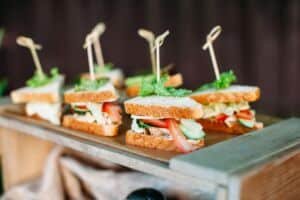 Conclusion: Elevate Your Afternoon Tea Experience with Delicious Sandwiches
finger sandwiches, afternoon tea sandwiches catering, gourmet sandwich platter
Indulge in the elegance and convenience of finger sandwiches for your next event. Whether you're planning an afternoon tea, corporate luncheon, or any other special occasion, our gourmet sandwich platter catering service will elevate your gathering to a whole new level.
Gone are the days of spending hours in the kitchen meticulously crafting each delicate sandwich. With our AI writing assistants, we can save you valuable time and energy by creating mouthwatering descriptions that will entice your guests from the moment they read them.
Imagine a platter adorned with an array of delectable finger sandwiches, carefully prepared with only the finest ingredients. From classic cucumber and cream cheese to smoked salmon with dill spread, every bite is a burst of flavor that will leave your guests craving for more.
Our AI writing assistants have been trained to capture the essence of these exquisite sandwiches, describing them in a way that will make mouths water and imaginations run wild. We understand that each sandwich tells its own story – from the delicate balance of flavors to the artful presentation – and we ensure that this narrative shines through in every word we write.
Not only does our AI writing assistance save you time and energy, but it also ensures consistent quality across all your marketing materials. Whether you need enticing descriptions for your website menu or captivating captions for social media posts promoting your catering services, our AI copywriting assistant has got you covered.
So why settle for ordinary when you can have extraordinary? Let our AI writing assistants take care of the words while you focus on delivering an unforgettable dining experience. Contact us today to discuss how we can elevate your finger sandwiches to new heights at your next event.