The Definitive Guide To Grazing Buffets: Everything You Need To Know For The Perfect Setup And Delicious Spread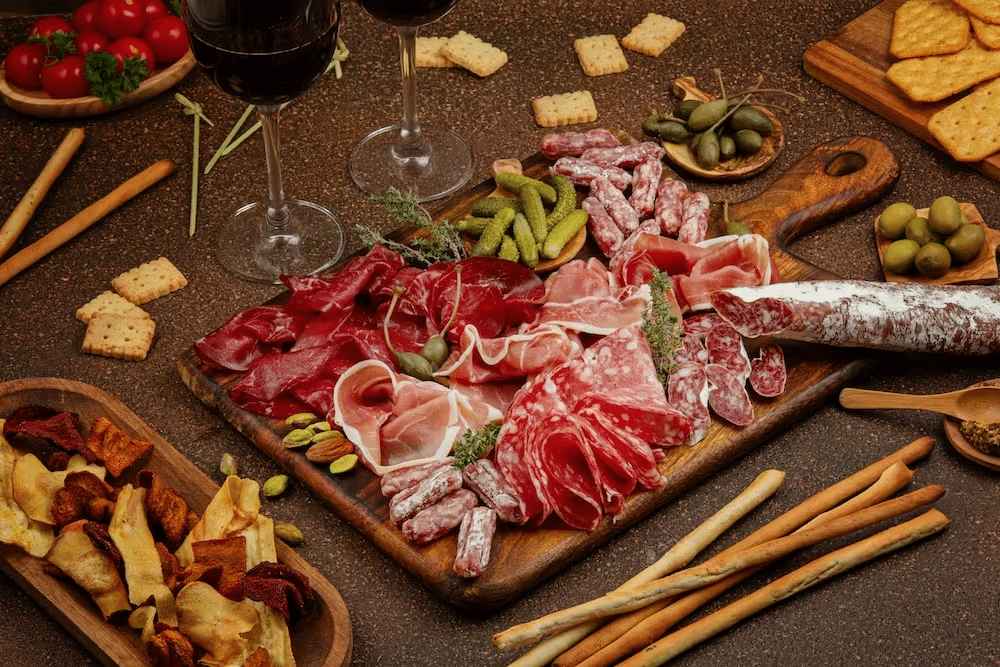 Are you planning a special occasion or party and looking for something unique and memorable? Then why not try a grazing buffet?
Grazing tables are all the rage right now, as they offer a selection of delicious food that your guests can graze on throughout the event. Whether it's an intimate dinner or an extravagant wedding reception, a grazing table will surely impress your guests.
In this article, we'll show you how to put together the perfect grazing buffet, from choosing a theme to selecting the best food. So let's begin creating an extraordinary experience that your guests will never forget!
What Is A Grazing Buffet?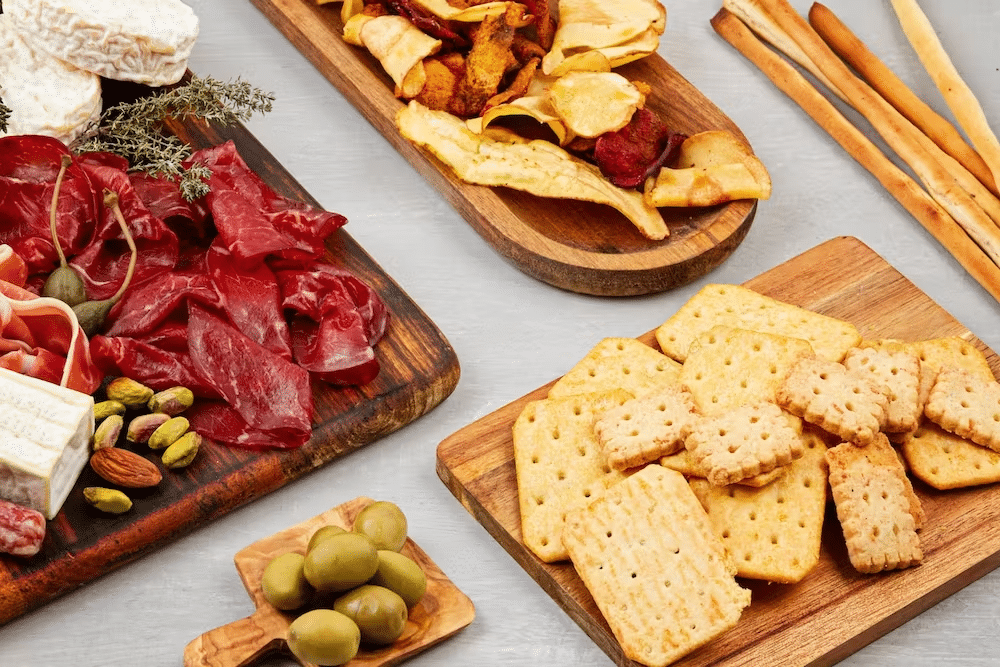 A grazing table is a type of buffet that has been artfully arranged on a large platter or board to make it visually appealing and easy for guests to pick and nibble at food. It's usually composed of seasonal fruits and vegetables, nuts and seeds, cured meats, cheeses, crackers, dips and sweet treats like chocolate truffles or macarons.
The key element to creating a grazing table is organised chaos – the
ingredients should be arranged in piles that spill and overlap
. Grazing tables are perfect for corporate events, guest receptions or any special occasion where you want to impress your guests with delicious food!
The Difference Between a Grazing Table And A Buffet
Grazing tables and buffets are both popular for large gatherings, but a few key differences set them apart.
For starters, a grazing table is usually smaller, emphasising presentation. It's arranged on one large board or platter, while a buffet typically consists of several dishes presented in chafing dishes. Buffets are also often more formal than grazing tables, featuring hot foods like casseroles and roasted meats.
With grazing tables, the focus is more on cold finger foods like cheese, fresh fruits and vegetables, dips, crackers and other bite-sized treats. They're ideal for events where guests mingle and nibble rather than sit down to a meal. Finally, grazing tables are much less expensive than buffets due to the smaller selection of food items.
Putting Together The Grazing Buffet: Tips And Strategies
Creating a grazing table is a great way to set the stage for your next gathering. Whether a casual outdoor party or an elegant dinner, a well-crafted grazing table can be the perfect centrepiece. Here are some tips on how to put one together:
Choosing a theme for your next event is the first step in planning a grazing table. Consider the occasion and the guest list as you decide what food and decorations to include. A rustic dinner may require earthy tones and organic ingredients, while a corporate lunch may require something more elegant and sophisticated.
Think about the colours, flavours, shapes and textures that best suit your gathering – from light and fresh fruits to bold cheeses or savoury meats. You can add some decorative items like candles, fresh herbs or plants to bring your theme together. With careful consideration, you can create an unforgettable grazing table that perfectly suits your guests' tastes!
Have Ample Props And Crockery
It's important to have enough props and crockery for your grazing table. Neutral-coloured plates, bowls and trays are great for any theme, while decorative platters and boards will add height and visual interest.
Invest in an assortment of cake stands, tiered stands or cake domes to place your food on – this will make the table look more inviting! Don't forget to provide enough serving utensils so your guests can help themselves with all the delicious treats you have laid out. With the right props and crockery, you can create a memorable grazing experience for everyone!
Fresh Flowers And Greenery
Fresh flowers and greenery are a great way to add a touch of colour and texture to your grazing table. A few bunches of fresh flowers around the table will instantly bring life to the spread and make it look inviting. If you prefer something more low-key, opt for potted herbs or succulents instead.
These can be easily arranged around the platters and boards to create a beautiful, rustic look. Greenery like ferns, ivy or eucalyptus will add texture and visual interest. The right combination of flowers and greenery will make your grazing buffet look truly stunning!
The best part of a grazing buffet is the food! Selecting the right mix of savoury and sweet items to please all your guests is key. Start with a selection of delicious cheeses, such as sharp cheddar or creamy brie. Then include cured meats like prosciutto, salami and chorizo for added flavour and texture.
For something sweet, consider adding fresh fruits, such as strawberries or raspberries, along with some dried fruit for variety. Remember to round out your spread with accompaniments like crackers, bread and other dippable items.
Serve your food on platters or boards for an impressive presentation that will wow guests. With the right combination of ingredients, you'll surely have a memorable grazing experience that everyone will love!
Garnishing your salad with fresh herbs like parsley, basil, or cilantro can add a pop of colour and flavour. Sprinkle a few leaves on top of the salad, or use them to create a decorative border around the edge of the dish.
A grazing buffet, also known as a grazing table or grazing platter, is a style of food presentation where an array of food items is placed on a large table or surface for guests to serve themselves. Overall, grazing buffets offer a unique and flexible option for event catering that can enhance the guest experience and reduce the workload for hosts or catering staff.
Now, you know how to create your own grazing buffet! Sit back, enjoy and watch people enjoy delicious treats!
What is the difference between graze and charcuterie?
Unlike a charcuterie board, a grazing board is filled with meats, cheeses and many accompaniments. A charcuterie board is just meats with a few accompaniments. A cheese board is a collection of different cheeses with only crackers or bread, usually without all of the accompaniments, except a few.
What is a grazing platter?
A grazing platter is a lot like a cheese board or charcuterie board. It's a large tray or board that is loaded with small bites.
Grazing stations allow guests to try a little bit of everything and build their own plate, having several dishes within one station. You could even have multiple grazing stations to represent different meal elements. For example, you could have a wood-fired pizza bar followed by a cheesecake stall.