Catering Case Study Brompton Afternoon Tea
Siri with Brompton approached Pearl Lemon Catering in August 2023 for an Afternoon Tea for Investors
They were looking for a catering company that could bring a traditional afternoon tea to impress the Chinese investors and we fit the bill.
The original scope of work agreed to was:
3x teas to choose from

Traditional style crockery 

Traditional finger sandwiches

Scones

Cakes

Spreads

Artful presentation of afternoon tea
With providing the above we would have to find and create recipes, source crockery, purchase all ingredients and train the team on presentation
Below was some of the training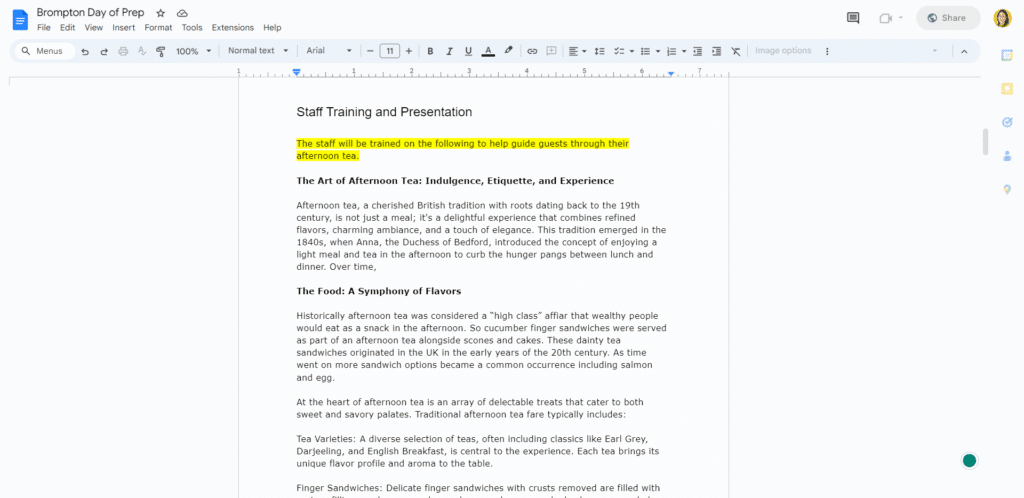 Building a quote and total costs for this event was one of the most involved parts of preparing for this event.
Axel and Lydia had to not only figure out the menu, but then find all the items from ideally one or two suppliers. From here they had to take recipes, scale it to 40-50 people and purchase.
Ingredient costing also had to factor in buying in new crockery for this event as it had to be more traditional in style rather that sleek and modern like the team already had.
Most conversation was kept on email with some communication on Whatsapp. Siri had regular communication with Deepak and the internal team kept everything in a separate chat.
Having two weeks to prepare gave Lydia plenty of time to research, order and adjust where needed. Lydia also put together an itinerary to share with Siri a few days ahead of the event.
As Lydia ordered crockery and kept tabs on shipments that came into Axel, Axel had to go local for ingredients. Oddly enough, many suppliers did not have scones and spreads needed.
We ended up with the below crockery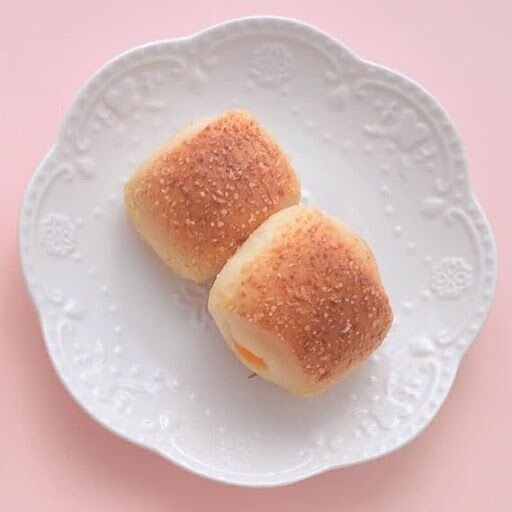 The team arrived about 30 minutes ahead of the guests to set up the tables. Ahead of the event Lydia prepared an itinerary for the day of to share with Siri so they knew what they could expect.
Our team set up place settings, tiers and tea sets. Got scones, cakes and sandwiches artfully displayed. And filled bowls with spreads and toppings for the scones.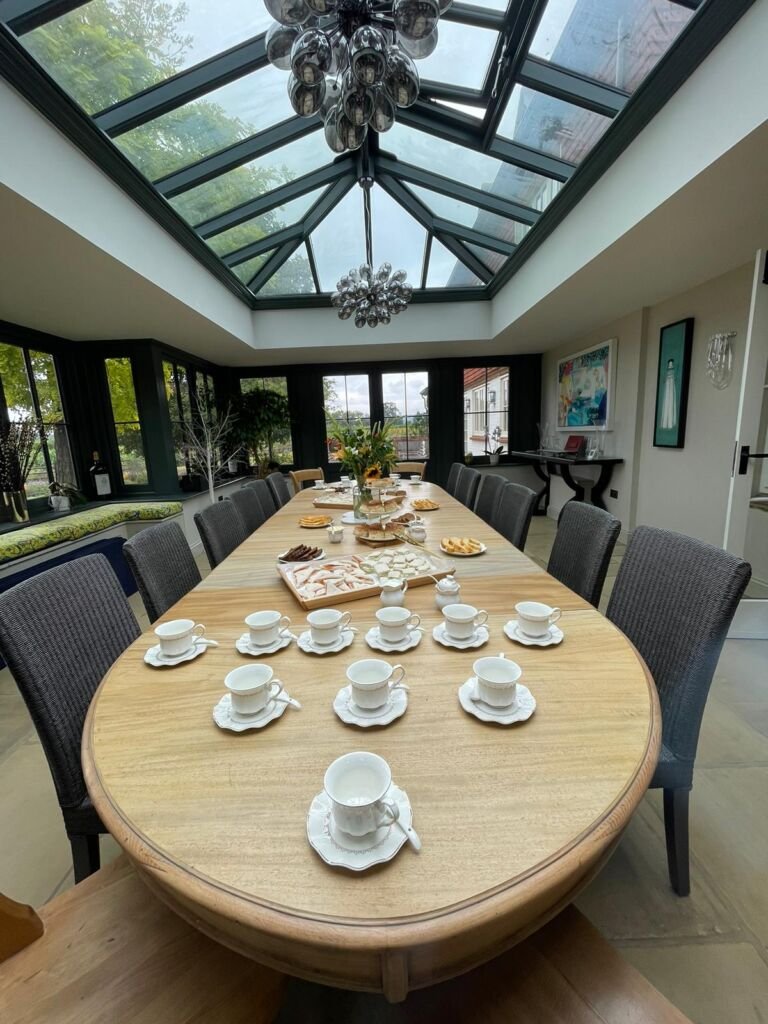 One of the biggest hurdles our team had was the original crockery never showed up. Lydia had to wait and file claims to get a refund, but the original crockery simply never showed. She was able to order something else and the entire team crossed their fingers in hopes it would be there in time. All crockery arrived one day before the event.
This lead to being short on some crockery because we didn't get the time to check online measurements versus what we got in.
In addition to this, this was the first time we tested out our finger sandwich recipes. So while we aimed to scale recipes right, we missed the mark a little and over purchased some while figuring out exact ratios.
One last hiccup was the event itself started a bit later than planned. While our team got there early for setup, most guests came by bikes and were a good 30 minutes late.
The Brompton team was very happy with the event and we made a great impression. We did end up leaving the crockery there to be sent back as people stayed and mingled much longer than planned.
All in all we had a great time and use this opportunity to fine tune our afternoon tea services to provice the best afternoon tea in London.