Pearl Lemon Cafe: Coffee Shop Case Study
Our first major project was our first cafe – building and designing Pearl Lemon Cafe (located in Fulham). This cafe had to be built 100% from scratch. This would include legal forms, finding contractors, designing menus and the shop, marketing and more. And that is what makes this the perfect example for a coffee shop case study.
As our first ever cafe build, there was plenty of learning opportunities along the way with things both done very right and with room to improve- making Pearl Lemon Cafe the best team that could help with a coffee consulting project; we have seen it all and then some.
The owners were from the UK (Deepak) and Southern France (Axel). Their goal was to have a lemon-based theme, especially colour-wise and pictures and in dispensers to fit the overall Pearl Lemon Brand Image.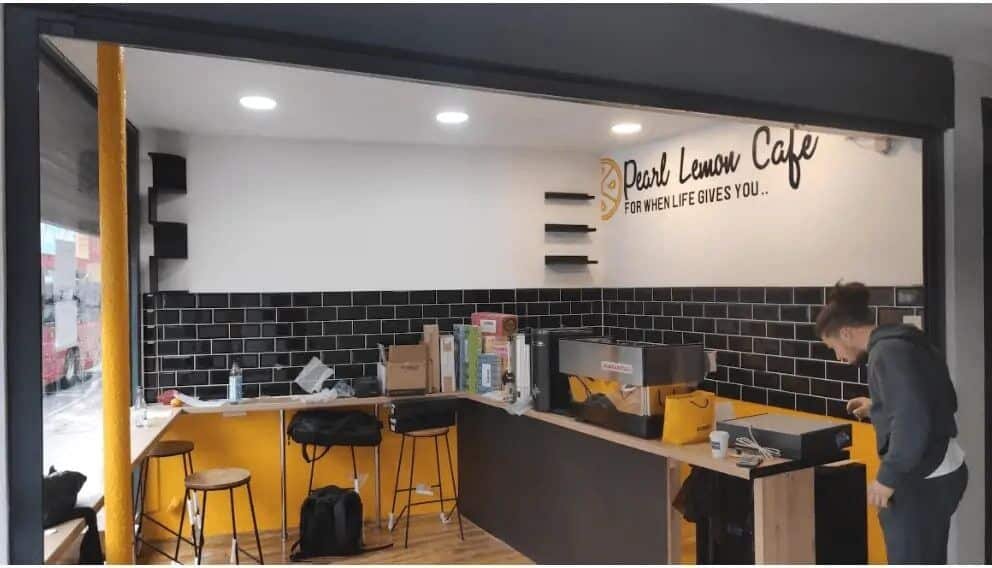 With a budget of £27,000, the Pearl Lemon Cafe project had to be done affordably but as high-end as possible. This cost would include designing the cafe, purchasing equipment and initial supplies.
The goal was to have a cafe that embodied the bright lemon yellow Pearl Lemon as a company keeps while maintaining a chill space people could use to work, relax or just grab a quick coffee.
Deepak had been a fully remote worker for years so wanted the perfect place to go and having worked in countless cafes from McDonalds to Costa and Starbucks to Hotels- he knew exactly what he wanted and did NOT want in a cafe.
The fundamental idea is it's a reflection of the Pearl Lemon company ethos >
Young, vibrant, energetic, and full of energy and life.
This coffee shop project included the following:
Finding a location

Negotiating rental price

Getting the team their level 3 and level 2 food safety & hygiene certifications

Getting the food hygiene rating

Applying for a food business to be registered in Fulham

Getting insurance

Getting various licenses and relationships built (waste, internet, etc.)

Setting up supplier relationships

Placing initial orders

Equipment research and ordering

Finding contractors to paint and help make the space pretty 

Getting pavement licenses

Getting alcohol licenses

Marketing

Delivery platform set-up

And more…
Costing the Ingredients and Equipment
Finding our equipment and ingredient suppliers was one of the more difficult parts of the initial coffee business setup.  This involved extensive research to find the best products at the best price to avoid burning through the budget too fast.
As Pearl Lemon Cafe evolved, we went through 4 suppliers before we found the best fit for us. This meant coffee beans, takeaway items, and pastries. As we approached our 1 year mark, this happened yet again to find who aligned the best with us as a coffee business.
We formed a great relationship with our Mazarcco supplier to get other grinders and machines for catering events and a coffee supplier that could deliver at the last minute or the next day in case of emergencies.
Part of finding a coffee supplier also included someone that would help us with white labeling (like the nifty coffee bag to the right of this text) so we could sell our coffe in shop and on our shopify site. (We will talk about shopify later)
So having had several conversations with the proposed contractor (who built several cafes along North End Road) – we've got the basic framework for what the layout might look like:
The coffee shop design to the right and was designed by a member of the team and is frankly amazing and represents a vision of how the cafe will look once it's up and running.
Basic themes and concepts are:
Plants – everywhere, on the shelves, on the ceiling in hangers, everywhere there could be a plan we wanted it

Lemons

Clean/open space (as much as the tiny unit allows)
And then build from there.
Finding decor to fit this vision was a fun challenge. We found mini lemon bowls to place throughout the cafe. We got fake lemons to draw faces on to place around the register. We also invested in a motor bike for photo ops in the cafe.
Thinking of photo ops, we also got an Instax mini camera to take instant Polaroid photos to place in the cafe.
This was all a part of the vision for the coffee shop design.
We wanted to have the best cup of espresso or coffee anyone in Fulham or all of London could get. 
This was one of the lengthiest processes for Dee and Axel. They spent around a month touring 3 roasteries a week checking out the processes and sampling different roasts from each location.
They wanted a luxurious experience and nothing that tasted acidic or burnt (like some chains we all know). Other firm requirements was we wanted something organic, bird-safe and rain-forrest safe certified, fair trade and traceable. So all-in-all we wanted to know exactly what we were getting and could be proud of that. 
Good for us, good for you and good for the environment.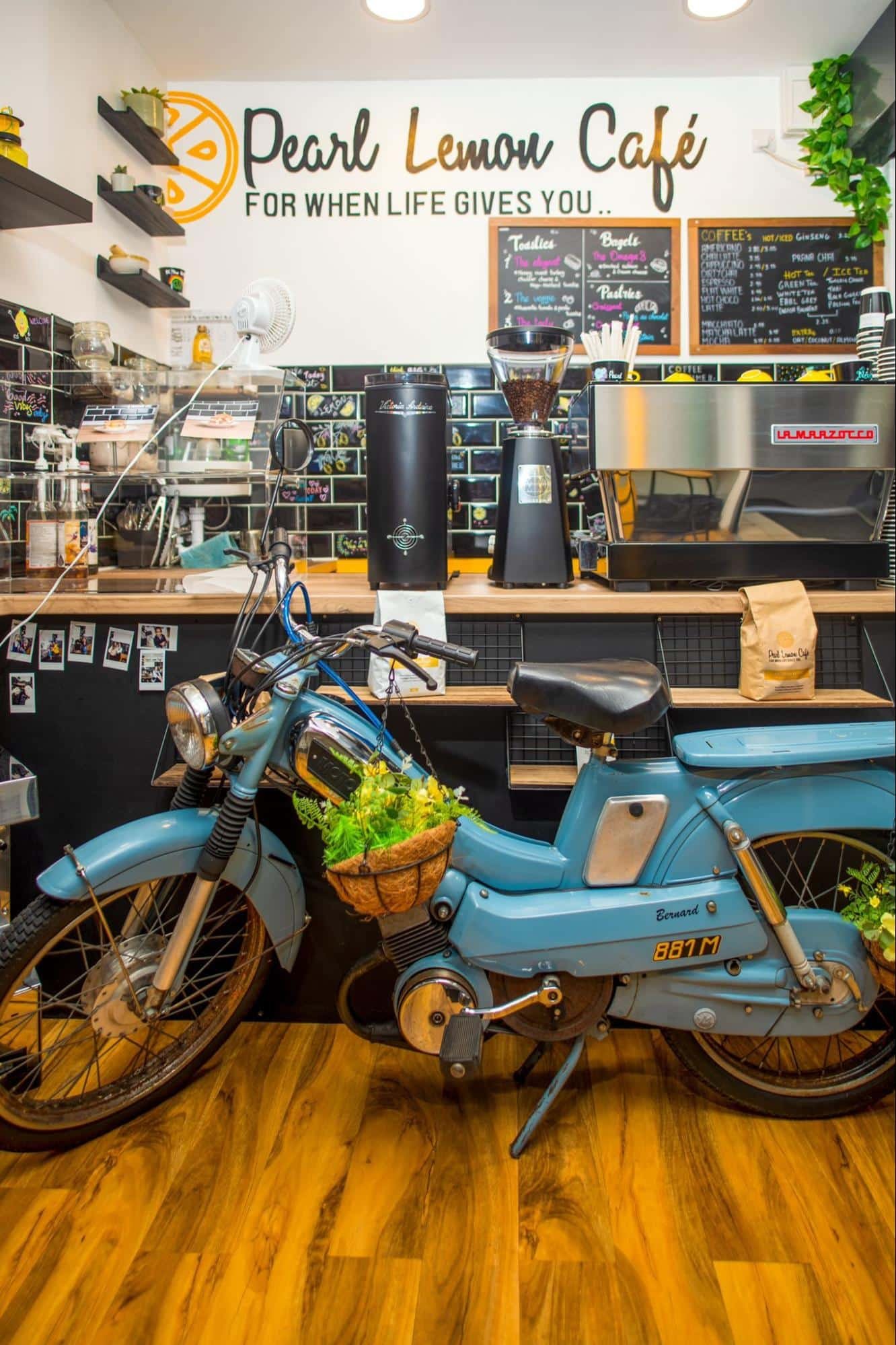 We ended up choosing a roaster that was willing to white label for us so we could provide bags of beans to customers to take home in our favourite blend by them.
Our chosen coffee had flavour notes of black cherries, chocolate, with a smooth finish. It was also a single origin from the Jinotega area of Nicaragua in South America. Washed beans grown at 1300 masl and the variety was Catuai, Caturra.
Once we chose our beans, it was time for our espresso machine and grinder. After weeks of research and deliberation (and tours and demos) we ended up choosing a Mazarcco. We felt this was the best and highest quality espresso machine to turn our beans into fresh pulled espresso. It would last us the longest and a name all the industry experts know.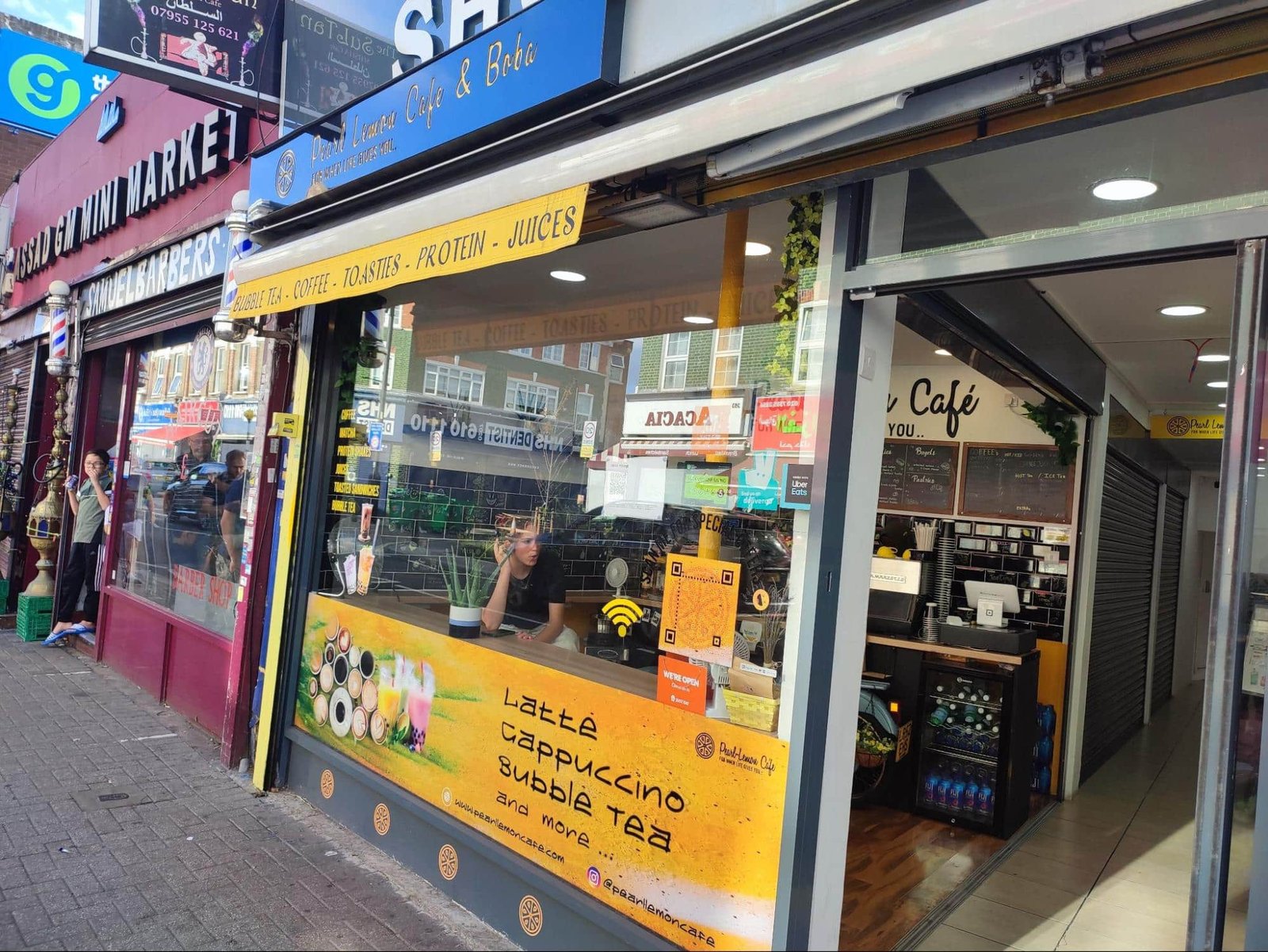 Designing our menu was one of the most fun parts of the coffee shop build, coffee shop design and overall setup.
We wanted something classic and familiar but a few unique offerings that would set us apart. We relied heavily upon Axel's experience being from Southern France. He specialised in taking his experience and looking at what was missing from the local market to have us stand apart and above the crowd.
Menu design also included looking at local produce and shops to push affordability and sustainability and support local.
First things first was our coffee drinks. We wanted to include all the classics (latte, cappuccino, hot chocolates, espresso, Americano etc.)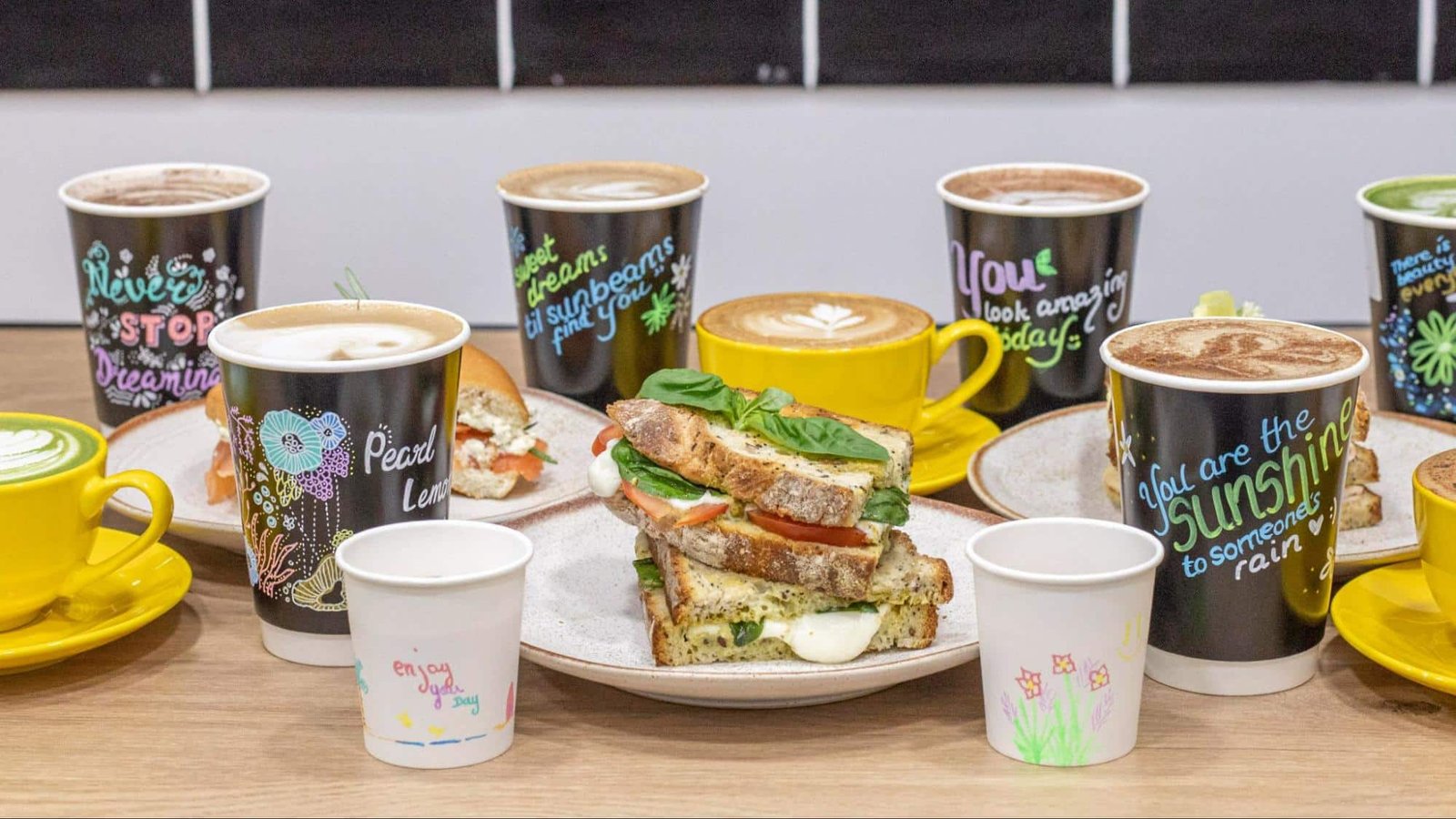 But we opted for a few unique drinks, namely ginseng coffee.
Part of the coffee menu design also included putting a focus on quality as well. Because you can get a latte anywhere, we wanted it to be the best latte you could find. We spent days training the team to help them learn how to achieve the perfect steamed milk to put into an espresso drink and how to perfectly time the espresso being pulled and when to add milk. Based on our reviews it worked.
We also couldn't forget adding milk alternatives. So aside the standard skim milk and 2%, we also opted for oat, soy, coconut and almond milk. This was to keep the menu allergen friendly and more inclusive. We also didn't charge extra for milk alternatives like most other shops. 
Even though some shops charge an extra .50 per cup, we felt it would be better to just include it in the price. This way no customer felt taxed due to an allergy or intolerance. This also lead to alot of happy people.
Also on the menu were toasties and pastries. Pastries are almost a must-have in any cafe because who doesn't like something sweet with their coffee? But toasties were curated to pull in the lunch and afternoon crowd looking for more than a cup of coffee.
We created four signature toasties with various ingredients to suit any taste. This was the Tasty, the Elegante, the Omega and the Veggie. And to not forget the pastries, we opted to have cinnamon rolls, sacristan, croissants and staff made banana bread. 
The banana bread was a top seller.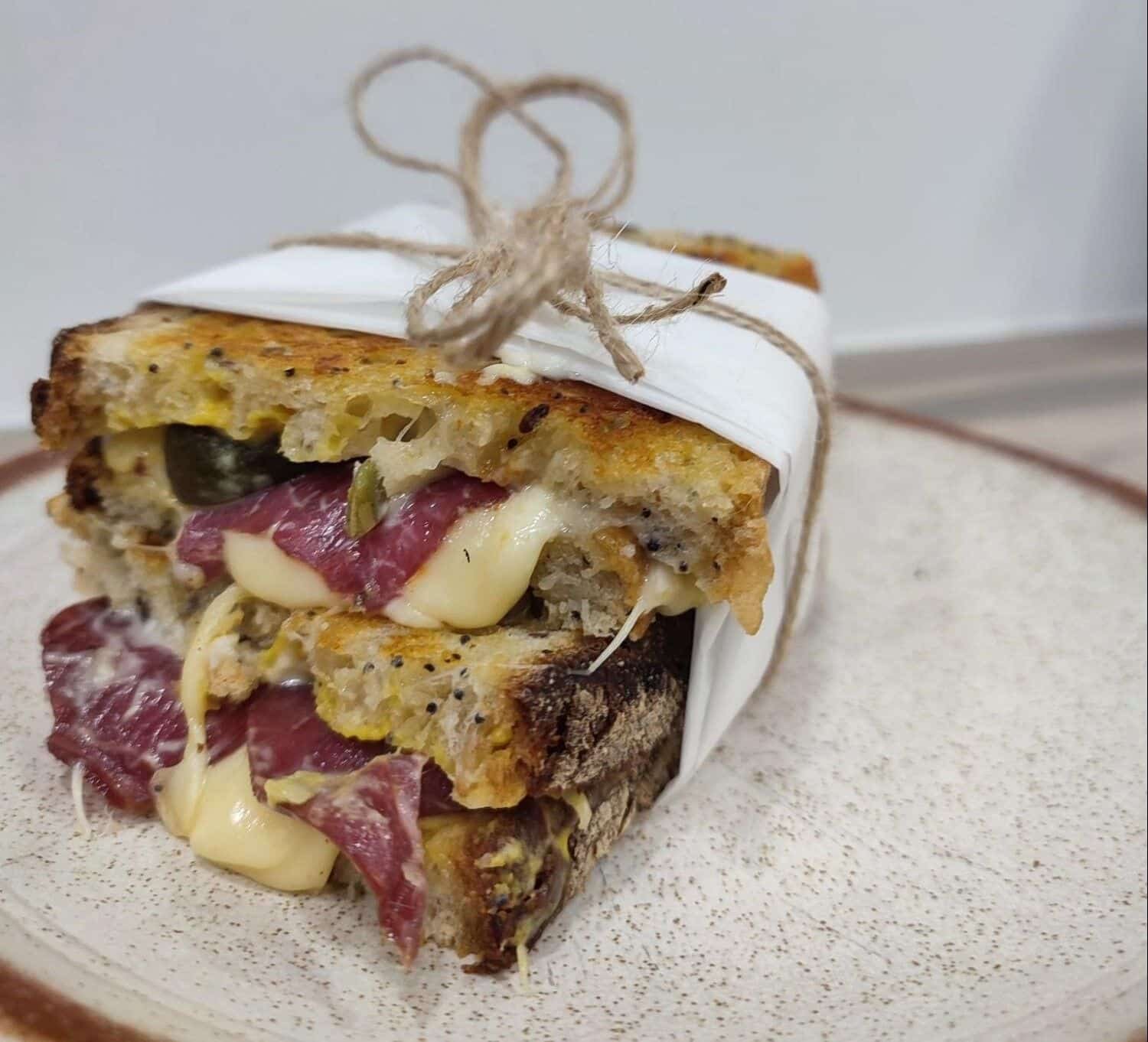 First, while our Procurement Director was sourcing items for the cafe INSIDE, we got contractors to start on the coffee shop design.
Flooring was put in, the walls painted, and the shelves put up. We tried to stayThe  as local as possible- going to ikea for alot of the internal items and other local shops. Outside, the shutter was painted, and banners were put up. We had a local artist take care of our shutters outside- he was great. He worked fast and in the end it looked amazing.
Ultimately, we got a beautifully designed cafe with bright yellow that stood out from the rest of the street.
Meanwhile, back on the operations side of set-up was hiring and buying.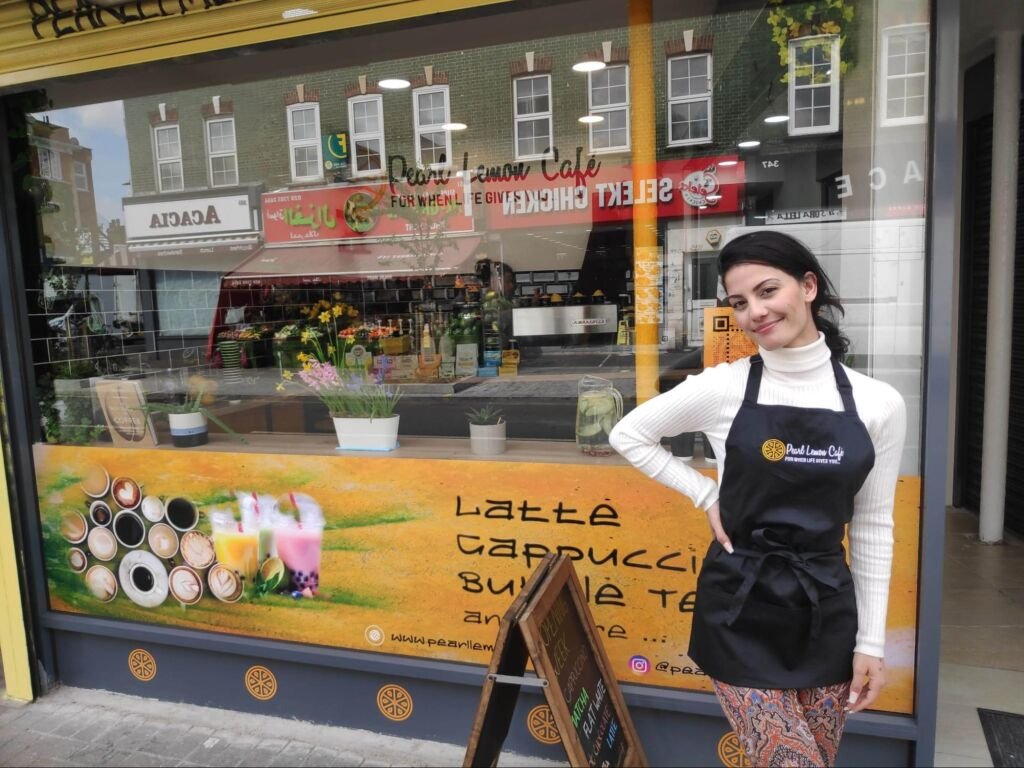 Our video trainings were built to help them learn how to make drinks, create latte art, serve drinks to go and serve drinks for those staying in the cafe. These trainings also put a heavy focus on customer service. Things like how to ask for a review, how to be more bubbly and more. Our videos also fully cover all recipes so we had it in writing and video so it did not matter our team's preference they would be able to learn everything they had to to be the best of the best.
We ended up with a great team.
Once our team was assembled and trained, we had to get uniforms. This came with finding suppliers, designing logos, and doing mock-ups and orders. We settled with some nice clean solid black t-shirts with a small logo, aprons, and button-up black shirts.
Below you can see one of our core team members sporting the apron in front of the cafe. 
Part of this setup was also finding what we felt the best POS system would be. After checking out close to 10 suppliers and sitting on various calls, we chose to partner with Square.
Their platform is secure, easy to use and edit, and had reasonably priced equipment bundles we needed.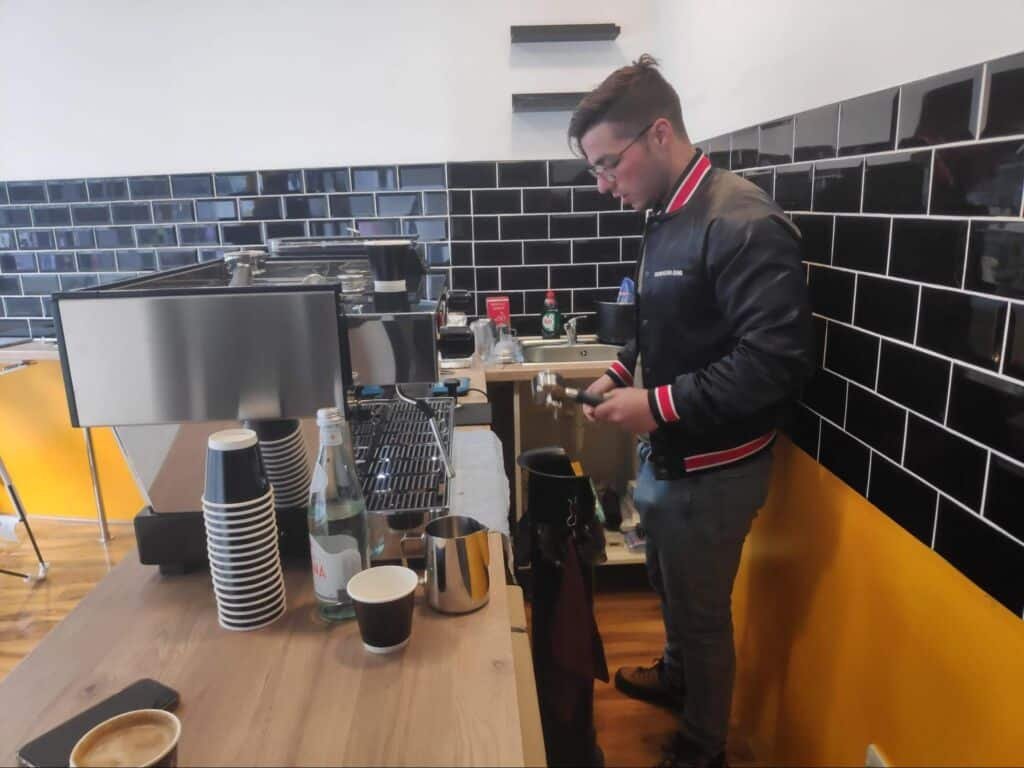 Legal "stuff" was a long, detailed process. It was mission-critical not to miss anything to avoid delays in our grand opening or risking the potential of being shut down.
The first was applying for a food license. This meant:
At least one person needed a level 3 food hygiene certification (this took 5 hours per person) A Manager needs to have level 3, but the rest of the staff don't technically need one as its assumed they are taught. We ended up having two level 3s and 5 level 2s on staff because we wanted to be bullet proof. 

We needed to have public liability insurance (this meant hunting and getting quotes) We had a tough time with this as we did catering as well, so we needed close to 1 million in coverage for public liability due to serving food.

We had to build a fire safety analysis (to prove we were safe) This was a surprisingly tough document to build as we had to show everything was up to code and everything was fully mapped out.

We had to build a HACCP (this over 50-page document was built to show we can handle any issue or potential hazard from mould to spoilage to fire or flood) This took close to a week to fully build and that was with a template guiding us. If there could be a contaminant we had to list what it was, how it could happen and how to provent and handle the situation- from chemicals to glass to illness and everything inbetween.

Prove we have a waste and rubbish contract. This was simple and most of the time was spent finding the best price for the best service.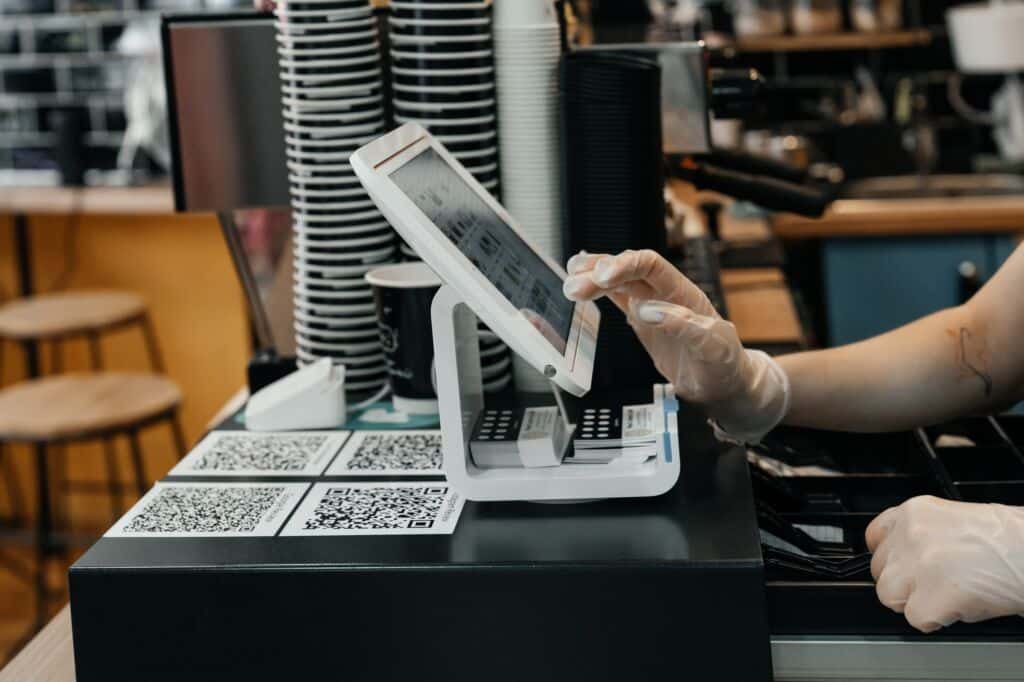 While that is just five core items, it took nearly a week to get together and apply. It was a lengthy process.
Other legal items that came next were registering our logo as a trademark so no one could pretend to be us, going through alcohol license courses and tests (this one was another two-week process) and getting a premises license to serve alcohol.
Setting up Pearl Lemon Cafe on delivery platforms was a key part of our marketing strategy. As a new business, we couldn't solely rely on foot traffic to bring people in. This meant relying on delivery platforms to get us visibility online.
Our first choice was Deliveroo, then Uber Eats and Just Eats.
The initial setup had challenges, but it was duplicated once we figured out one.
Each had an initial application to fill in with general questions like name, contact information and restaurant information. But then came the long part- we had to turn our menu into a spreadsheet to show price, description, item name and any modifiers. That took a few days to build, BUT once it was done, it was done.
This was then sent as a package to each respective account manager assigned to us.
Delivery platforms maintained an ongoing project through year one- experimenting with ads and offers, changing descriptions and photos, and making bundle deals. We invested much time and energy into this portion of the project to gain as many new and recurring customers as possible.
We found there was a very particular formula to having the perfect restaurant listing on these platforms. We spent easily 80 hours per platform after we went live fine tuninging and developing our "secret sauce".
Descriptions have to be a particular way, pricing has to be set just right, images are factored, reviews and more. It was a true challenge.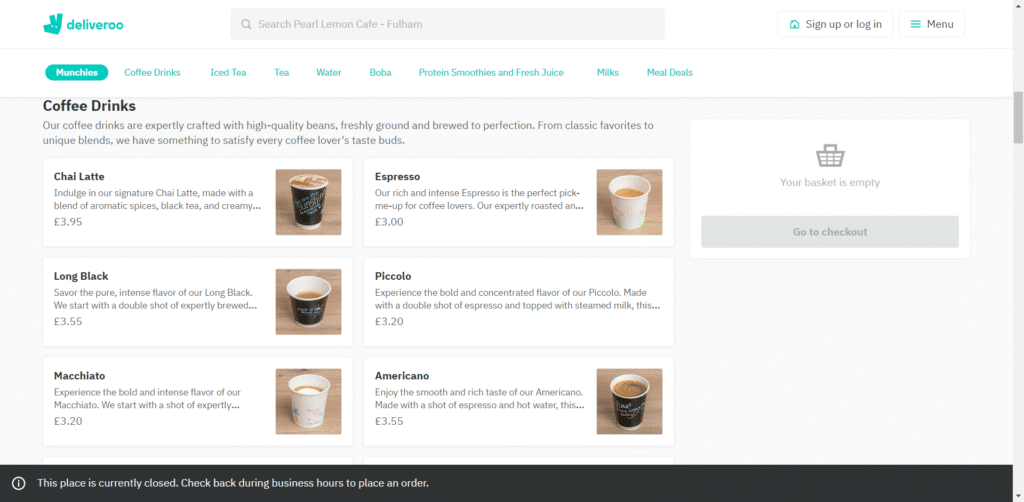 Inventory and Stock Management
One of the biggest research projects we had to undertake was figuring out what equipment we needed and what consumables we needed.
The further we got, the more we realised we needed more.
For example we knew we needed a mini fridge and we ended up ordering 2-3 more. We knew we needed an ice machine but ended up needing so much more we had to get one that was able to go under the counter.
Once we figured out all the large equipment, it was onto the small "here and there" things. This included temp logs, various storage containers, spoons and other washable items for staff to use, backup pumps for syrups and more.
The list ended up feeling endless, but we did it.
From Amazon, to Nisbets, to Ikea- we got everything we needed to have a fully functioning cafe that kept everything temp safe and stored safe.
To give you a feel for what we had to purchase:
Ice maker (initially something small because not many people ever wanted ice)

Under the counter ice maker (a heatwave hit and our smaller machine could no longer handle what was needed)

Fridge (all of our milks and one for all of our bottled water)

Freezer (for ice and longer term storage)

Blender (for smoothies and blended drinks)

Cupboards

Chairs

Cleaning supplies

Mop

Grinder

Espresso machine

Square terminal

Tablet for square

A-board for outside (we needed to get those views from the street)

Sandwich press (because who doesn't love a hot fresh toasty)

And more…way more
Then there was the consumables:
Starting with supplier relationships (we wanted the best prices so Lydia had to undergo a heavy negotiation process)

Milk suppliers

Pastries

Toasty supplies (meat, bread, cheese and veg)

To go supplies for sandwiches

Juices

Coffee

Coffee Syrups

And more
Once we established everything we needed and had. We built a purchasing spreadsheet to start while we honed in on who was best. Choco swooped in to save the day making ordering for us way easier as it put it all in one place- no log ins no spread sheets…no nonsense.
Prior to the app, Lydia and Axel worked in one giant shared sheet with a check box system. It seemed to be the best way to be cohesive with a 5 hour time gap. Lydia would include all information needed in the sheet. Such as product name, a description, where it was for, where it was from, the cost and the URL. Axel would then check the sheet when things needed to be ordered, check off a little box and write in how many packs. Lydia would check the sheet at her EOD and order for the next day or within 48 hours. As we got busier and expanded, this became hard to manage and other team members requesting items wouldn't use the sheet. So choco was a definite life saver- it is on our recommended list of must-have tools when opening a cafe or restaurant.
The internal team was quick to establish purchasing protocol with Lydia. After a few weeks of watching inventory, a rhythm was built so when there was a week left of an item, Lydia would order it so it would be delivered in about 72 hours and then there wouldnt be an excess of stock.
Offline Marketing Efforts
Marketing cannot be forgotten in our cafe's setup.
We made offline and online efforts to ensure we hit the ground running. Marketing work began before a physical location was found. This was an absolute must to try to out rank the competition as we opened to try to convert as many people to become our loyal customers.
This meant building the website, social media accounts and directory listings. Once these were built, we began SEO work to get greater visibility on Google and have an active online presence.
We also began flyering around Fulham to help gain more local visibility while we went through our online campaign. If we wanted to be seen locally while SEO did its magic, we had to actually be SEEN. This meant flyering in car parks, mailboxes, gyms and bulletin boards. There was a heavy push to write reviews and refer people for discounts.
Aside flyering, we also bought loyalty cards. Once we got them in we specifically trained our team to push people to take one home with them. They were a simple buy 9 get the 10th free stamp card. This worked phenomenally in creating repeat customers., and we had to order over 5000 loyalty cards in year one.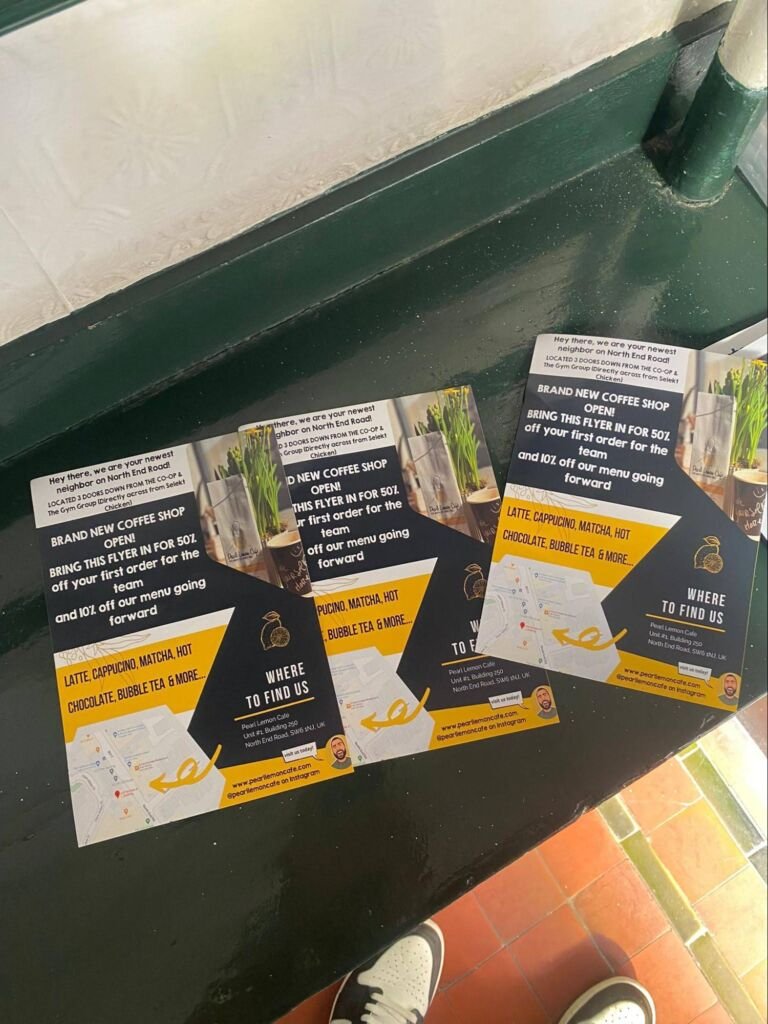 We also had QR codes at the register to scan for discounts and reviews. This was a simple and engaging way to get people to leave reviews while waiting for their drink to be ready.
Pearl Lemon Cafe also placed stickers on the front to advertise milk tea and boba teas as well- this gave us a competitive edge as there was no competition nearby for this drink…this did lead to another location opening as a direct result.
The cross-sell opportunity
Fulham has no shortage of businesses and entrepreneurs – and given Pearl Lemon, as a company builds websites and ranks them on Google, it opens up a real sales opportunity.
By this, I mean identifying such individuals and offering them our services where relevant.
Having spent alot of time sitting in cafes – you get all manner of business owners that come in.
Furthermore, I confirmed this by asking a friend at Coffee Underground about how many business owners she sees walk through the doors….
And she said dozens – which validates my plan.
Furthermore, I visited the coffee truck on North End Road – Souter Bros. Daniel (one of the two brothers) told us that his brother Stuart was away the last two days because he picked up some graphic design work from truck customers.
And that, in general – their coffee truck had been good for his design business.
Thus, building websites for local businesses is going to be possible.
The health & fitness opportunity
As someone who pays for personal training at the local gym – I've built a strong relationship with my trainer and see opportunities here.
Broadly – there isn't anything serving them through easily accessible protein. Mixing caffeine, protein, matcha, and protein will be a reliable way to attract the gym crowd initially.
Having two products – one for pre-workout and one for post-workout will be an excellent way to get this crowd to Pearl Lemon Cafe.
This is not even considering any food opportunities.
i.e. we can uncover the food needs of those who go to the gym and explore pre-orders for opening up a dark kitchen and moving into a food subscription.
To this end, there are countless opportunities for cross-selling.
Even in Coffee Underground I discovered, a store patron was searching for amazing Matcha and didn't mind making a trip to Marleybone for it as she said, 'I work around there'.
There are many 6,7, and 8-figure coffee businesses we've never heard of out there that have built big businesses by selling their range of coffee beans and paraphernalia.
Looking at the local market, it's clear from the Souter Bros, Coffee Underground, and several other cafes – that one of the bigger aims of their local 'in-person' and 'in-store' presence is to sell their coffee beans.
And having done a quick Google – identifying a brand (once we do taste and quality testing) seems straightforward enough:
There's a big market for this type of model.
And given the Pearl Lemon brand with lemons is relatively strong – this can extend to other products such as cups, t-shirts or otherwise.
We had a great benefit in developing a local marketing matrix to out rank all of our competitors.
Some of these strategies we employed was having a beautiful A-board out on the sidewalk for people passing to see on the street and across the street should they not look up to our sign.
We did extensive research on local businesses and schools and partnered with them for special events. We also launched ourselves on numerous loyalty platforms as well. Having virtual loyalty programs and physical cards allowed us to extend our reach well beyond what anyone else could.
Part of ranking locally was also getting in on associations and clubs because then our name ended up far and wide.
Places like glassdoor, next door, yell, yelp and more allowed for us to gain an amazing level of visibility and we quickly garnered a loyal following.
Local PR was a huge part of this section of us launching as well. We wanted to be as visible as possible. We ended up being published in local newspapers and prints, we also ended up being published on numerous online publications as well.
Reviews, Reviews, Reviews
Reviews are mission critical in any industry, but especially the food and beverage space. Many sub-markets for restaurants are over saturated…everyone has a dream of having a food cart, a cafe, or a bakery.
This means you have to be seen as the best of the best.
The way to solve this problem is of course getting reviews. People spend hours researching before visits, purchases, etc.
In relation to the previous section, we got listed on directories for local visibility when people looked for our competitors in London and Fulham. Then from here we started getting reviews.
We made purposeful efforts to get reviews on Facebook, Google My Business, Yell/Yelp, Trust Pilot, and more. We ended up with hundreds of 5 star reviews spread over multiple platforms.
Part of our online marking efforts included more than just getting reviews. We developed a specific strategy to replying to reviews as well. With taking this "industry secret" approach we were able to help boost our ranking within local searches as well.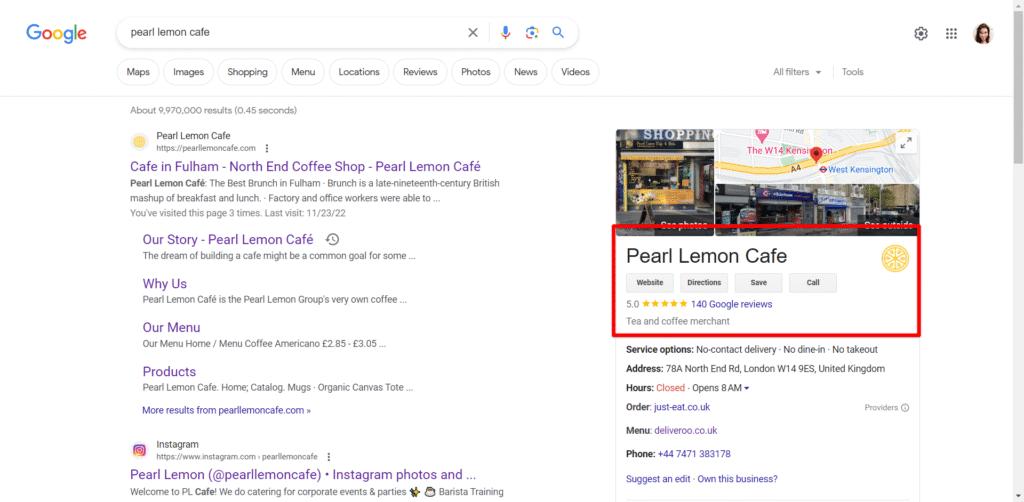 Something unique we started to develop early on was our Shopify store. Shop.pearllemoncafe.com was developed to sell our coffee and ship it to customers plus other retail items we sold in store.
There was more than this though. We got our design team heavily involved with Lydia on this project. So while she spent a week building the website and ensuring the checkout worked and it was functional; the design team started working on a variety of merchandise.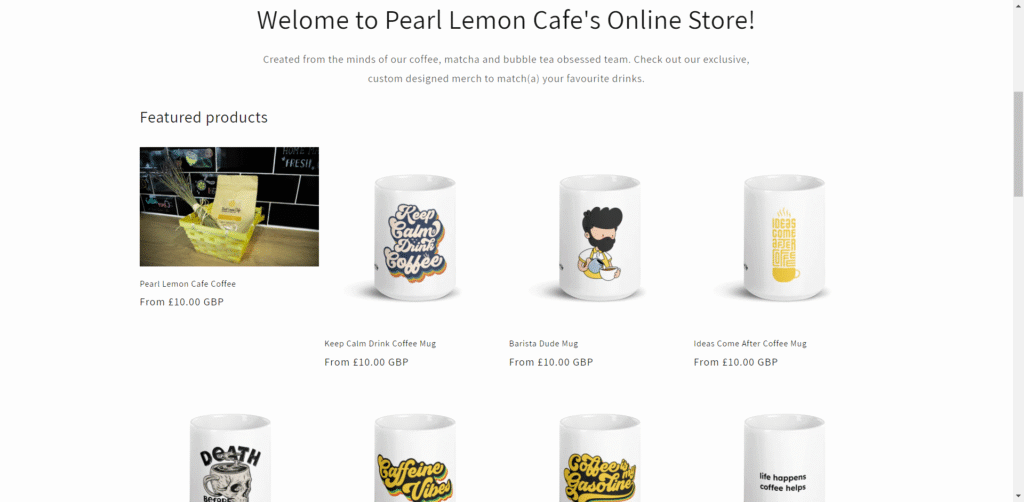 This merchandise was to include t-shirts, tote bags and mugs. Each "section" we decided would have up to 10 different designs or slogans that would be repeated acrossed all item types. This way if someone really liked "death before decaff" they could get a mug, tote and matching t-shirt to fully express their support of caffeine.
Additionally this store was designed to sell any item that could match with our food & beverage locations. This would later include Pearl Lemon Boba and How Matcha.
After a month of designing and a week of website building, the store was ready for orders and was added to our various sites to buy directly from.
We also had the pleasure of ordering samples and having a fun photo shoot to document the project.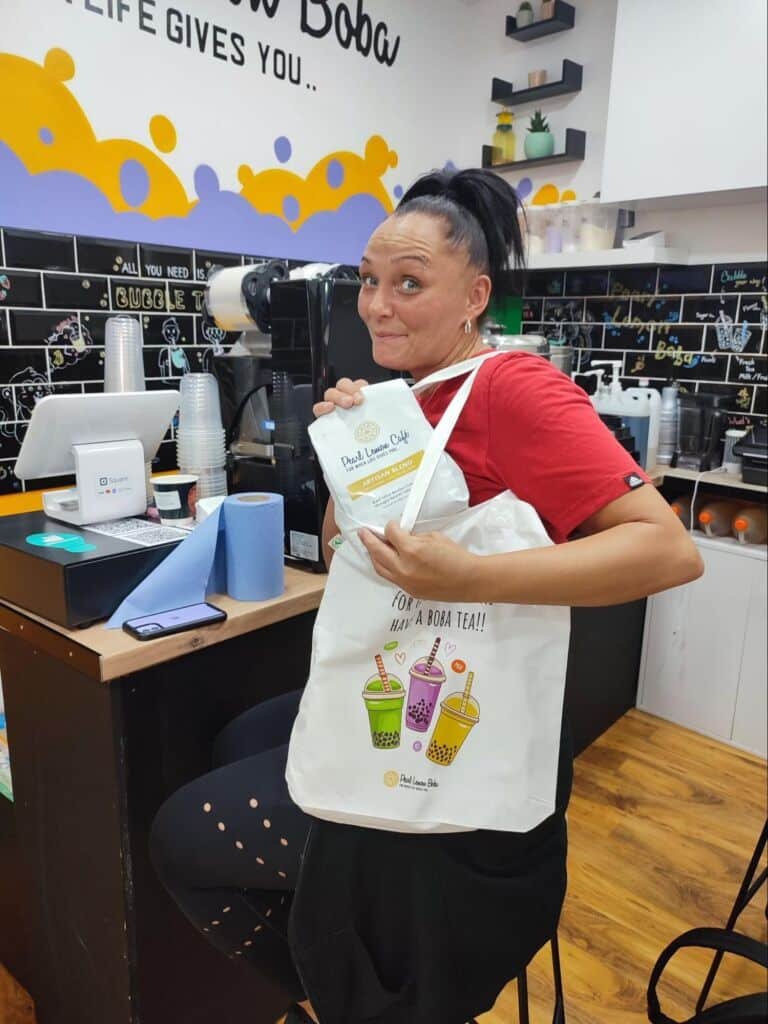 Suppliers and equipment:
This was the biggest obstacle during shop set-up. Large pieces of equipment had to be returned and reordered, leading to delays and buying stuff locally, like ice, for a bit.
One supplier, in particular, made support and ordering very difficult when an exchange or service on equipment was needed.
Another supplier made it seem like they were very successful and got great prices for us; two orders later, they were out of business. This caused more than just a few issues as it meant we had to redo our ordering process fully we had in place. We never were able to find a supplier as cheap as them and were never really sure how they were able to sell so cheap, but it did end up making our purchases 1.5-2.5x more expensive.
Once we got our ice machine, we also found out we had to hire several builders to get it to fit and ensure it worked right. This again meant needing to cut into shelving, moving equipment around, and troubleshooting with the machine. Once in a while, it got a bit fussy.
The heat wave: Summer of 2022, there was a bit of an unexpected heat wave. The shop was not set up friendly enough to have cold air flowing because everything was open. This meant trying to take advantage of outlets and having strategically placed fans in hopes that it would cool down. At this time, one ice machine also broke, so we had to switch to buying ice locally in large quantities until our machine got replaced.
Deliveroo: We were grateful for a free photography session, but it was horrid. After about six months, we ended up fully redoing all the photos for delivery platforms, as the ones we had were just bad. Securing the premises:
The landlords had plenty of inquiries about the space, so we were in a huge rush to secure the place.
On top of that, we had to negotiate the rent cost by paying six months upfront to show good faith. Once we secured the premises and started the licensing process, we also found out we needed ANOTHER sink in a very confined space to be fully up to code. We accomplished this, but the small space was a definite challenge. There was also a great deal of pressure to open within three weeks
Premise challenges:
Near winter, there were some major structural errors, and we began having issues with water leaking, and it took way too long to get it fixed.
We also had to do alot of custom work for fixtures and fittings. Our contractor had to saw into new shelves bought from ikea to get everything to fit properly. So we ended up having a VERY custom location.
Pearl Lemon Cafe turned out to be both lovely to look at and successful. As the business became established, we have easily seen 11% minimum growth month after month. Growth was even higher month after month on Deliveroo.
We did end up selling the location to focus on other projects, and the new owners are very happy with how the cafe was outfitted and prepared for them in terms of being set up with a previous client base and having established supplier relationships.
We'd Love To Hear From You!