Pearl Lemon Catering embarked on an exhilarating journey alongside Ella, channeling our unwavering enthusiasm and expertise to transform her vision of LeBell Cafe into a tangible reality. From the very inception, we recognized the significance of every minute detail, investing our hearts and souls into every aspect, be it navigating the intricacies of legal forms or meticulously crafting a menu design that encapsulated the essence of Ella's dream.
As a team, we were overjoyed to contribute to the creation of a warm and inviting space that would serve as a community hub in the vibrant neighborhood of West Kensington. Our collective efforts were guided by an unwavering commitment to ensuring that LeBell Cafe would become an oasis of comfort, a place where people could gather, connect, and create lasting memories. Through our extensive collaboration with Ella, we meticulously curated an ambiance that exuded hospitality and invited guests to savor not only the delectable culinary offerings but also the intangible sense of belonging that permeated the air.
Embracing the unique opportunity to assist Ella in her inaugural venture into the world of cafes, we welcomed the challenges that arose with open arms, viewing them as invaluable learning experiences that would propel us forward. Our comprehensive understanding of the intricacies involved in café creation, coupled with our unwavering dedication to excellence, has positioned us as trusted advisors in the realm of coffee consulting, ready to support aspiring entrepreneurs in their own journey of bringing their coffee dreams to life.
Throughout the endeavor, Ella's unwavering determination and passion served as a constant source of inspiration. Despite the hurdles and obstacles, she remained resolute in her pursuit of turning her dream into reality. Witnessing Ella's commitment and her dream materialising was an immensely rewarding experience. We take pride in having played a pivotal role in her success in propelling her towards attaining her goals.
As Ella embarks on her journey, the knowledge and expertise she gained through the creation of LeBell Cafe will undoubtedly serve as a strong foundation for her future endeavours. With her indomitable spirit and newfound wealth of experience, we are confident that Ella will continue to excel in coffee consulting, enriching the lives of countless individuals and establishments with her passion and dedication.
Our collaboration with Ella in bringing LeBell Cafe to life was a transformative experience that allowed us to merge our expertise with her unwavering vision. From legal intricacies to menu design, every facet of the project was infused with our collective passion and commitment. As we continue to forge ahead, we celebrate Ella's triumph and eagerly anticipate the remarkable journey for both LeBell Cafe and Pearl Lemon Catering, knowing that our shared commitment to excellence will continue to shape the landscape of the coffee industry.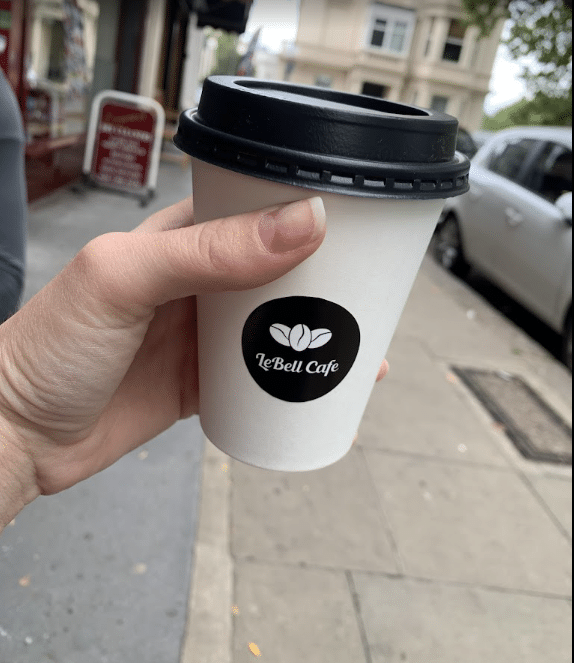 The LeBell Cafe project was a labor of love that required Pearl Lemon Catering and Ella to be creative and resourceful. With a limited budget, they worked tirelessly to help LeBell find ways to make the cafe look and feel high-end while keeping costs affordable. 
Every aspect of the project was approached with care and attention to detail, from designing the cafe to purchasing equipment and initial supplies. Ella's vision was to create a warm and inviting space that felt like home. She wanted to create a space perfect for people who needed a place to work and relax, just like she did as a single mother. 
Ella's passion for coffee was evident in the selection of equipment and consumables she chose for the cafe. She knew that a great cup of coffee could bring people together and create lasting memories, and she wanted to help others experience that same sense of warmth and community. 
Throughout the project, Ella had a clear vision of what she wanted and didn't want in her cafe. She carefully considered every detail, from the colour of the walls to the type of chairs and tables to create an atmosphere that was welcoming and comfortable. 
Despite the challenges they faced with a limited budget, Ella and her team remained committed to making the LeBell Cafe a success. Their hard work and attention to detail paid off, resulting in a cafe that is warm, inviting, and perfect for people who need a place to work or relax.
The fundamental idea is that it reflects the LeBell Cafe ethos

This project included the following:
Finding a location

Negotiating rental price

Getting the team their level 3 and level 2 food safety & hygiene certifications

Getting the food hygiene rating

Applying for a food business to be registered in Fulham

Getting insurance

Getting various licenses and relationships built (waste, internet, etc.)

Setting up supplier relationships

Placing initial orders

Equipment research and ordering

Finding contractors to paint and help make the space pretty 

Getting pavement licenses

Getting alcohol licenses

Marketing

Delivery platform set-up

And more…
Costing the Ingredients and Equipment
Pearl Lemon Catering played a crucial role in helping LeBell Cafe find the right equipment and ingredient suppliers. We understood that Ella needed to get the best quality products at the best prices, so we did extensive research to find the perfect fit.
The process of finding the right suppliers was not a task we took lightly. Our team dedicated countless hours to reviewing and comparing options, considering factors such as product quality, pricing, reliability, and customer service. We wanted to ensure that every ingredient and piece of equipment met LeBell Cafe's standards and delivered exceptional value for their investment.
Our team took great care in selecting the right suppliers for LeBell Cafe. We knew that the success of the cafe depended on the quality of the ingredients and equipment used. 
Once the right suppliers were found, we continued to provide support to LeBell Cafe as they grew and evolved. It wasn't just about sourcing ingredients and equipment; it was about fostering an ecosystem of support to ensure that the cafe had everything it needed to deliver exceptional products and services to its valued customers.
During this process, we built strong relationships with our suppliers, which ensured us that we were getting the best deals and products available.
Pearl Lemon Catering and Labell worked tirelessly to ensure that everything was in place for a successful launch. The relationships they built with their suppliers continue to benefit LeBell Cafe today.
Ella's vision for the LeBell Cafe went beyond just serving great coffee. She wanted to create a warm and inviting space that would be a feast for the senses, so Pearl Lemon Catering worked tirelessly to bring this vision to life.
Plants were a big part of our design vision. The use of plants not only added to the aesthetic appeal of the cafe but also helped improve air quality and create a calming atmosphere.

To add to the aesthetic appeal and give off a clean yet homey vibe, Ella invested in modern wooden tables and panels. The use of natural materials like wood and stone can add texture and warmth to the space, making it feel cozy and inviting. The modern design of the tables and panels also gave the cafe a sleek and contemporary look.

In addition to the wooden tables and panels, Ella also wanted to invest in beautiful, handcrafted ceramic bowls and plates in warm, earthy tones to add to the overall aesthetic appeal. These bowls and plates not only looked great but also added a touch of sophistication to the cafe's presentation.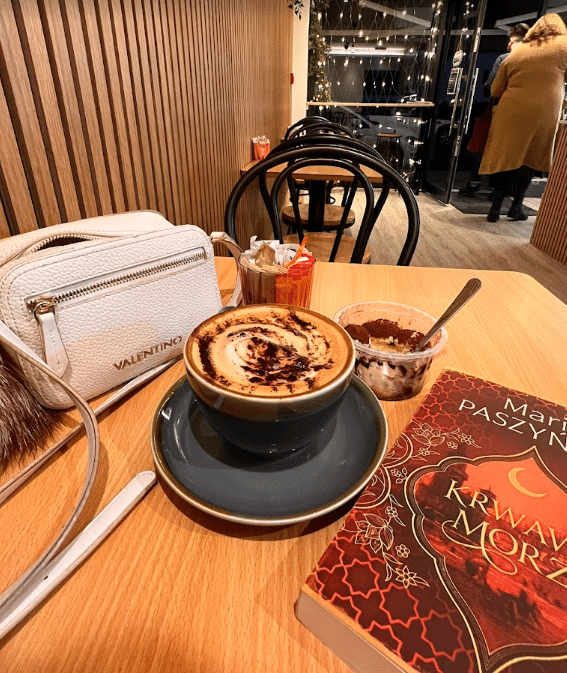 Her goal was to create a space that would be clean and open, while also being warm and welcoming. By incorporating natural elements, pops of color, and modern wooden tables and panels, we achieved this vision for LeBell Cafe. The result was a space that not only looked great but also felt great to be in, making it the perfect place for people to relax, work, or catch up with friends.
When Ella decided to open the LeBell cafe in Kensington, she determined to serve nothing short of the best cup of espresso or coffee in all of London. This pursuit led her to an extensive exploration of roasteries, lengthy where she spent several months of touring different locations and sampling a variety of roasts.
In addition to taste, she also had some firm requirements for their coffee beans. She wanted something organic and wanted to know exactly what she was getting and be proud of it—coffee that was good for her, her customers, and the environment.
Finding the right bean supplier was a challenge…
Weeks were spent coordinating roastery tours, attending cuppings and tastings, and meticulously evaluating how well the beans were ground and brewed. Each aspect was carefully considered to ensure that every cup of coffee served at LeBell Cafe would embody excellence.
Once she chose the beans, she chose an espresso machine and grinder. After weeks of research and deliberation (and tours and demos), Pearl Lemon Catering supplied LeBell with only the best machines, and she chose a La Mazarcco. She felt this was the best and highest quality machine to turn her beans into fresh-pulled espresso. It would last her the longest, and it's a name that all industry experts know.
Finding the perfect coffee beans and equipment was a challenge, but it was worth it. LeBell Cafe is proud to serve the best cup of coffee in Kensington, and they look forward to continuing to provide a warm and welcoming experience for our customers.
Because Ella lives in Kensington, she knew this was where she wanted to open a cafe – to be local and close to home. 
West Kensington is a vibrant and diverse area with a strong sense of community. It has several residential areas, including Hammersmith Grove, Barons Court, and Olympia. These residential areas are populated by diverse people, including families, young professionals, and students. This means that there is a large potential customer base for a cafe, making it an attractive location for business owners.
West Kensington is well-connected to other areas of London, making it easily accessible for customers. Several bus routes and underground stations serve it, including West Kensington, Barons Court, and Olympia. This means that customers from other parts of London can easily travel to West Kensington to visit a cafe.

West Kensington has several popular tourist attractions, including Olympia London and the Hammersmith Apollo. This means a steady stream of tourists visiting the area annually, providing an additional customer base for cafes and other businesses.
Finally, West Kensington has several green spaces and parks, making it an attractive location for people to spend time outdoors. The area is home to Normand Park, Brompton Cemetery, and Holland Park, among others. This means that cafes with outdoor seating areas can attract customers who want to enjoy a coffee or meal in a pleasant outdoor setting.
Overall, as someone who lives in Kensington, Ella knew that West Kensington was her dream location to open the LeBell cafe. Its diverse community, accessibility, tourist attractions, and green spaces make it an attractive location for business owners.
The process of designing LeBell's menu proved to be an exceptionally enjoyable and gratifying endeavour, as it allowed us to shape the identity and culinary direction of our café. Ella, the visionary behind LeBell, embarked on a quest to create a menu that struck the perfect balance between timeless familiarity and distinctiveness, setting us apart from the myriad of cafes in the local market.
To craft a menu that resonated with our customers, Ella drew upon our collective expertise. We conducted extensive research to identify the gaps in the local culinary landscape. Through this thorough exploration, we discovered the untapped potential for LeBell to stand out and soar above the crowd. Central to our menu design philosophy was the emphasis on affordability, sustainability, and supporting local producers and suppliers—a triad of principles forming our culinary identity's foundation.
With a strong focus on the local community, Ella sought to showcase our region's abundant high-quality produce and ingredients. By forging partnerships with local farms and suppliers, we ensured the freshness and superior quality of our ingredients and contributed to the growth and sustainability of the local economy. This commitment to supporting local businesses resonated deeply with our values and allowed us to offer our customers an authentic and uniquely local dining experience
Regarding our coffee offerings, Ella was determined to provide a comprehensive array of choices to cater to diverse tastes and preferences. Our menu featured a delightful assortment of classic coffee drinks, including lattes, cappuccinos, hot chocolates, espressos, Americanos, and much more. By paying homage to these beloved and time-honoured favourites, we sought to create a sense of comfort and familiarity while infusing our unique twist into each preparation. With expertly crafted brews skillfully poured and meticulously presented, we aimed to delight our customers with every sip, ensuring their coffee experience at LeBell was exceptional.
Moreover, Ella's innovative spirit and dedication to culinary excellence inspired her to introduce a range of signature offerings that set LeBell apart from the ordinary. Through meticulous experimentation and fine-tuning, we curated a selection of dishes and beverages that showcased our creativity and distinctive flair. From innovative flavour combinations to artistic plating techniques, these unique offerings served as a testament to our commitment to pushing the boundaries of traditional café fare and offering our patrons an extraordinary culinary adventure.
In essence, the design of LeBell's menu was a labour of love—a particular endeavour to strike the perfect balance between familiarity and innovation. Ella's unwavering commitment to affordability, sustainability, and supporting local producers drove our menu design, allowing us to showcase the exceptional products available in our region while bolstering the local economy. We ensured every guest could find their perfect cup of caffeinated delight by offering a wide range of classic coffee drinks alongside our signature creations. Through our carefully curated menu, we aspired to create an extraordinary dining experience that would leave a lasting impression on our customers and establish LeBell as a beacon of culinary excellence in the local café scene.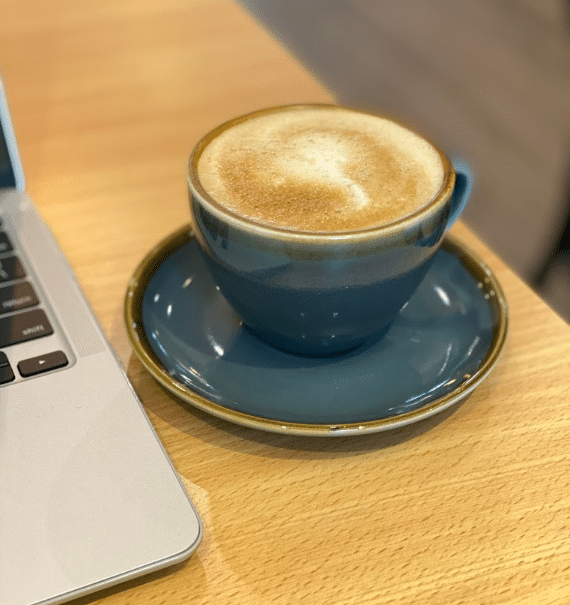 She also offered a few unique drinks, such as pink lattes!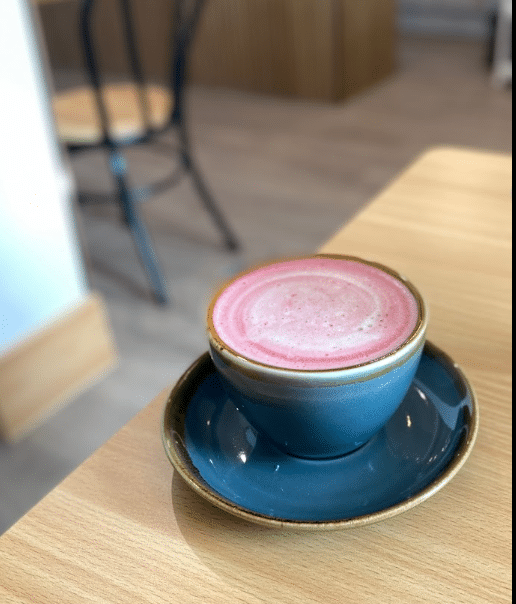 Part of their coffee menu design included putting a focus on quality. Days were spent on training her team to learn how to achieve the perfect steamed milk to put into an espresso drink, perfectly time the espresso being pulled, and when to add milk. Based on our reviews, it worked. 
To ensure that their menu catered to a wide range of dietary preferences and needs, LeBell Cafe went beyond traditional milk options and incorporated various milk alternatives. Oat, soy, coconut, and almond milk were carefully chosen to provide allergen-friendly and inclusive choices for their valued customers.
In addition to their exceptional coffee offerings, LeBell Cafe curated a delectable pastry menu that showcased classic treats designed to delight the senses.The flaky croissants, mouth-watering cinnamon rolls, irresistible cookies, and indulgent cakes were crafted to complement the coffee experience..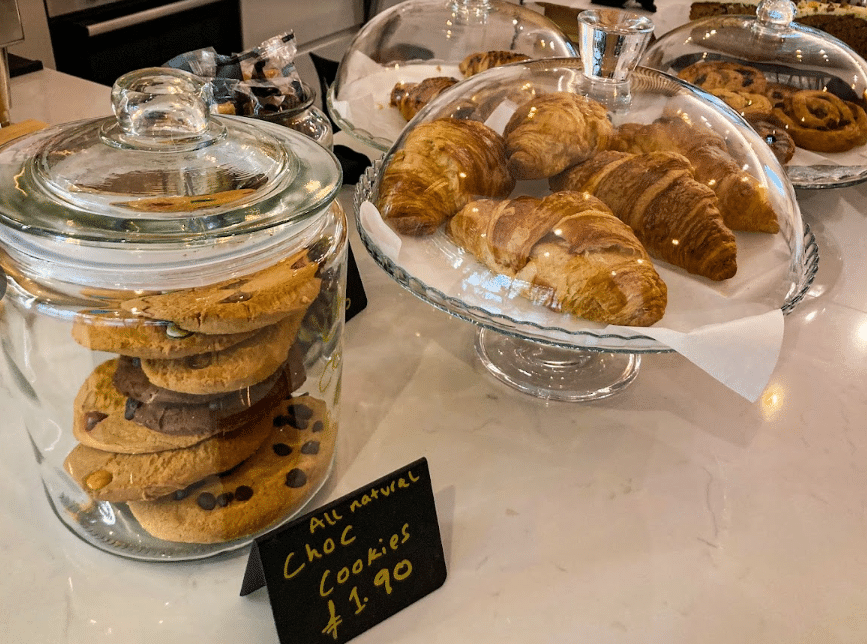 Recognizing the need for a satisfying and savory lunch menu, LeBell Cafe expanded their culinary offerings to include a variety of sandwiches, subs, and bagels. The menu was thoughtfully curated to cater to diverse palates and cravings, ensuring that customers could find a satisfying option no matter their preferences.
Overall, the goal was for the menu to remain inviting and familiar while still offering distinctive options that set them apart from other coffee establishments. This careful curation aims to foster an environment where customers feel welcomed, enticed to explore new flavors, and eager to return for more memorable experiences.
Ella was deeply committed to supporting local businesses and fostering a sense of community, which reflected in her careful selection of suppliers. When it came to internal items for the cafe, she made a conscious effort to source from local shops and establishments. A prime example of this was her collaboration with IKEA, which provided a range of high-quality furnishings and fixtures that met her standards while staying true to her commitment to local sourcing.
To elevate the aesthetic appeal of the cafe, Ella incorporated charming and whimsical details that added a touch of personality and charm to the space. Chalkboards adorned the walls, serving as artistic canvases to showcase the daily specials and menu items. This interactive element not only engaged customers but also added a sense of spontaneity and uniqueness to their dining experience. Complementing the chalkboards were carefully arranged glass jars, brimming with an array of colorful candies and treats. This creative touch added a playful and nostalgic vibe, delighting both the young and the young at heart and leaving a lasting impression on all who visited.
Stepping outside, the exterior of the cafe underwent a striking transformation. Black and white paint adorned the shutters, creating a visually captivating contrast that instantly caught the eye. To ensure impeccable execution, Ella enlisted the expertise of a local artist who skillfully brought her vision to life. The collaboration with the artist proved to be a resounding success, as they worked diligently and efficiently to deliver a visually stunning outcome. The meticulously painted shutters became a defining feature of the cafe, setting it apart from neighboring establishments and becoming an emblem of its unique identity.
The result of Ella's unwavering dedication to the cafe's design was nothing short of extraordinary. The black and white exterior, achieved through the expertly painted shutters, exuded a modern and sleek aura, instantly captivating passersby. This bold aesthetic choice not only turned heads but also created a sense of anticipation and curiosity among potential customers, enticing them to step inside and discover what lay beyond.
As guests entered the cafe, they were greeted by a warm and inviting atmosphere, crafted through meticulous attention to detail. Clean wooden interiors formed the foundation of the design, seamlessly blending modern elements with natural beauty. The addition of wooden accents brought a touch of warmth and earthiness to the sleek and contemporary ambiance, creating a cozy haven where patrons could relax and feel right at home. The harmonious blend of materials and textures transformed the space into a sanctuary of comfort, making it the perfect retreat from the bustling world outside.
Ella's commitment to supporting local businesses and her discerning eye for design resulted in a cafe that was truly one-of-a-kind. From the carefully sourced internal items to the playful chalkboards and glass jar decorations, every element was thoughtfully curated to create a unique and memorable experience for customers. The striking black and white exterior, brought to life by a talented local artist, made a bold statement on the street, inviting curiosity and setting the stage for the warm and inviting atmosphere found inside. With its clean wooden interiors and cozy ambiance, the cafe provided a haven for patrons to relax and enjoy the delightful culinary offerings while basking in the aesthetic harmony of the space.
When it came to hiring, Ella was directly involved in the process. She was looking for a team that was not only skilled but also had a bubbly personality and great people skills to work alongside herself.
Training the team from scratch was a challenge, but it was also a great opportunity to shape their skills and knowledge. She understood that investing in their development and knowledge would be essential to ensuring consistent high-quality service. 
To equip her team with the skills they needed, Ella organized external training events and even developed an online training course. This comprehensive training covered various aspects, including opening and closing procedures, shop management, and customer service etiquette.
Once the team was assembled and trained, she had to get uniforms. This involved finding suppliers, designing logos, and doing mock-ups and orders. Ella decided on light green t-shirts and black aprons with the LeBell logo on them.
Overall, hiring and training her team was a crucial part of setting up our cafe. She wanted to make sure that our team was knowledgeable, skilled, and had great customer service skills.
The legal process was a crucial and detailed task that required careful attention to ensure that LeBell could avoid any delays in their grand opening and prevent the risk of being shut down. 
One of the primary legal requirements LeBell addressed was obtaining a food license. Understanding the importance of food safety and hygiene, they diligently pursued a level 5 food hygiene rating. To achieve this, they ensured that at least one staff member possessed the necessary certification, demonstrating their commitment to maintaining the highest standards of cleanliness and safety in food preparation.
In addition to the food license, LeBell Cafe took measures to protect themselves and their customers by securing public liability insurance. This insurance coverage provided peace of mind, safeguarding against unforeseen incidents and potential liabilities that could arise within the cafe environment.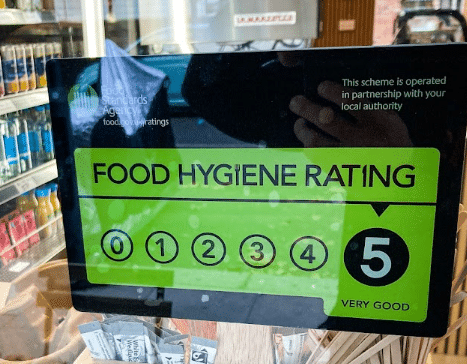 To ensure the safety of their premises, LeBell conducted a thorough fire safety analysis. This involved assessing potential fire hazards, implementing appropriate safety measures, and developing an effective emergency response plan. Additionally, they created a HACCP (Hazard Analysis and Critical Control Points) document, which outlined the steps taken to identify and control potential food safety hazards
Finally, LeBell Cafe has demonstrated their dedication to sustainable practices by establishing a waste and rubbish contract, ensuring that they had proper protocols in place. 
These core items took almost a week to complete, but they also had to register our logo as a trademark.
Inventory and Stock Management
Ella's research project was a crucial component in the successful launch of the cafe. With the assistance of Pearl Lemon Catering, all required items were identified and sourced with ease. 
The team began by determining the larger equipment needed for the cafe's operations. This included the espresso machine, grinder, and other essential items. Once these larger items were identified, they moved on to smaller yet equally important items such as temp logs, storage containers, washable items for staff to use, and backup pumps for syrups. 
Ella's attention to detail was evident in the thoroughness of her research and the care she took in selecting the right equipment and consumables for the cafe. She ensured that each item was carefully considered to ensure that the cafe could operate smoothly and efficiently.
Here`s what needed to be purchased:
Ice maker

Fridge (all of our milks and one for all of our bottled water)

Freezer (for ice and longer-term storage)

Blender (for smoothies and blended drinks)

Cupboards

Chairs

Cleaning supplies

Mop

Grinder

Espresso machine

Square Terminal

Tablet for square

A-board for outside (we needed to get those views from the street)

Sandwich press (because who doesn't love a hot fresh toasty)

And more…way more
Then there was the consumables:
Milk suppliers

Pastries

Toasty supplies (meat, bread, cheese and veg)

To go supplies for sandwiches

Juices

Coffee

Coffee Syrups

And more
Offline Marketing Efforts
Marketing was a crucial aspect of LeBell Cafe's setup. LeBell recognized the importance of offline marketing efforts to establish themselves as a reputable business and attract a loyal customer base.
After securing a physical location, LeBell began their marketing efforts to outrank the competition. 
To increase local visibility and awareness, LeBell implemented a multi-faceted approach that included distributing flyers throughout the neighborhood.These flyers were strategically placed in various locations, such as car parks, mailboxes, gyms, and bulletin boards.
Additionally, they encouraged customers to write reviews and refer others to the cafe. Incentivizing these actions with discounts and rewards, this strategy not only helped to boost their online visibility but also cultivated a sense of community and engagement among their customers.
To encourage repeat business, LeBell bought loyalty cards that offered customers a free drink after purchasing nine. This simple yet effective strategy helped to create repeat customers and increase customer retention rates.
LeBell also implemented QR codes at the register to scan for discounts and reviews. This provided an engaging way for customers to leave reviews while waiting for their drink to be prepared.
To further differentiate themselves from the competition, LeBell placed stickers on the front of their cafe advertising unique drinks such as milk tea and specialty coffees. This gave them a competitive edge as there was no competition nearby for these types of drinks.
LeBell Cafe's offline marketing efforts were essential in establishing themselves as a reputable business within the local community and attracting a loyal customer base.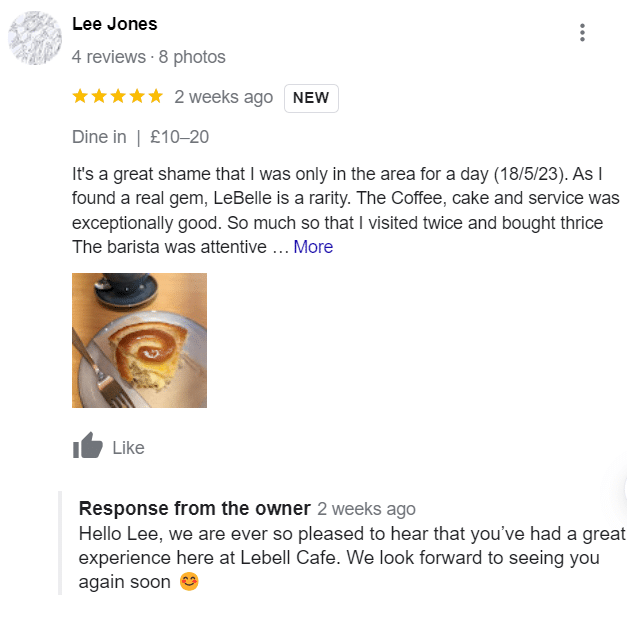 Reviews, Reviews, Reviews
Reviews are crucial in the food and beverage industry, especially in oversaturated markets like London and Fulham. To stand out, businesses must be seen as the best of the best, and reviews are a key component of achieving this.
LeBell Cafe recognized the importance of reviews in establishing themselves as a reputable business and attracting new customers. They listed their business on local directories to increase visibility and encourage customers to leave reviews. Additionally, they developed a specific strategy for responding to reviews, which helped to boost their ranking within local searches.
However, LeBell's marketing efforts went beyond just getting reviews. They also focused on providing high-quality products and services that differentiated them from the competition. By offering unique drinks and menu items, as well as exceptional customer service, LeBell was able to establish a loyal customer base and increase their online presence.
Overall, reviews are an essential component of any food and beverage business's marketing strategy. By developing a specific approach to responding to reviews and providing exceptional products and services, LeBell was able to establish themselves as a reputable business within the local community and attract a steady stream of new customers.
Embarking on the journey of opening a cafe, especially in the vibrant neighborhood of West Kensington, presented a plethora of challenges for Ella, who courageously tackled each obstacle as a single mom determined to bring her dream to life. The road to success was fraught with hurdles, but her unwavering determination and the support she received propelled her towards establishing a thriving cafe in the face of adversity.
One of the primary challenges that Ella encountered was the exorbitant rent prices for commercial spaces in the area. As a small business owner and a single mom, finding an affordable location that met her requirements and financial capabilities proved to be an arduous task. Nevertheless, Ella persisted, exploring various avenues and negotiating diligently to secure a suitable space to serve as the foundation for LeBell Cafe's future.
Moreover, the intense competition within Kensington's food and beverage industry posed another significant hurdle. The neighbourhood boasted a diverse and thriving culinary scene, with numerous cafes, restaurants, and eateries vying for attention and patronage. Standing out amidst such fierce competition required a meticulous approach and a unique value proposition that would captivate the discerning palates of the community. Ella recognised the importance of offering distinctive and high-quality products that set LeBell Cafe apart. Through rigorous market research and meticulous planning, she curated a menu that catered to the diverse tastes of the neighbourhood, ensuring that each offering bore the stamp of LeBell's exceptional quality and innovative approach.
Running a cafe demands immense dedication and long hours, which often challenged Ella as she navigated the intricacies of balancing personal responsibilities with the demands of the business. Juggling parenting duties, managing the cafe's operations, and maintaining a semblance of work-life balance required exceptional time management skills and unwavering commitment. Yet, Ella persevered, driven by her passion for creating a warm and inviting space where the community could gather and savour culinary delights.
Navigating the legal and regulatory landscape of opening LeBell Cafe added complexity to the venture. Ella had to familiarise herself with various permits, licenses, health and safety regulations, and employment laws to ensure compliance and operate within the legal framework. This process demanded meticulous attention to detail, as even the smallest oversight could lead to significant setbacks. However, with the invaluable guidance and expertise provided by Pearl Lemon Catering, Ella was able to navigate this complex terrain confidently. The assistance of the Pearl Lemon Catering team in understanding legal requirements and implementing effective marketing strategies alleviated the burden on Ella, enabling her to focus on honing her menu, refining her vision, and attracting a steady stream of new customers.
The success of LeBell Cafe is a testament to Ella's indomitable spirit, resilience, and unwavering commitment to her dream. The challenges she encountered on her journey only strengthened her determination, and with the support of Pearl Lemon Catering, she overcame every obstacle that stood in her path. 
Today, LeBell Cafe stands as a thriving testament to Ella's passion, hard work, and the unwavering support Pearl Lemon Catering provided.
LeBell Cafe's remarkable success can be attributed to its unwavering commitment to excellence, meticulous attention to detail, and relentless pursuit of exceptional products and services. Every aspect of the cafe, from its enchanting interior design to its carefully curated menu items and exceptional customer service, was meticulously crafted to create a truly extraordinary experience for its patrons.
The interior design of LeBell Cafe was a labour of love, reflecting Ella's keen eye for aesthetics and her desire to create a space to captivate and enchant guests. The unique and eye-catching design elements, such as the charming chalkboards displaying daily specials and menu items and the glass jars brimming with colourful candies and treats, added a whimsical touch to the overall ambience. These thoughtful details were not just decorative but also contributed to the overall experience, making every visit to LeBell Cafe a memorable and delightful occasion.
LeBell Cafe's commitment to delivering exceptional products extended beyond its aesthetic appeal. The menu was carefully crafted to offer various options catering to different tastes and dietary preferences. Each dish was prepared carefully, using high-quality ingredients from local producers and suppliers whenever possible. This dedication to sourcing local and sustainable ingredients contributed to their offerings' freshness and flavour and reflected their commitment to supporting the local community and promoting sustainability.
Exceptional customer service was a cornerstone of LeBell Cafe's philosophy. The staff was trained to provide warm and attentive service, ensuring every guest felt welcomed and cared for. The team's passion for their craft and genuine enthusiasm for creating a remarkable experience for each customer shone through in every interaction. Whether offering personalised recommendations or going the extra mile to accommodate special requests, LeBell Cafe consistently exceeded expectations, leaving a lasting impression on its patrons.
In addition to focusing on delivering an exceptional in-cafe experience, LeBell Cafe recognised the importance of marketing and establishing a strong presence within the local community. They strategically invested in local visibility, leveraging platforms such as social media, online directories, and community events to showcase their offerings and engage with potential customers. They also prioritised building a robust online reputation, encouraging customers to leave reviews and testimonials. The positive feedback they received bolstered their credibility and attracted new customers, enticed by the glowing recommendations and the genuine enthusiasm expressed by satisfied patrons.
The success of LeBell Cafe can be seen as the culmination of their unwavering dedication, tireless efforts, and commitment to providing an exceptional customer experience. Their attention to detail, from the exquisite interior design to the carefully crafted menu, demonstrates their passion for creating a unique and memorable environment. The exceptional products and services they offer, coupled with their focus on building a strong reputation and establishing a connection with the local community, have solidified LeBell Cafe's position as a beloved establishment.