6 Ways to Include Coffee in Your 2023 Events; Menu Suggestions and More
Coffee has become a part of our routines serving as more, than just a morning energy boost. Whether you're managing a coffee shop organizing an event or seeking ways to offer coffee this article is worth exploring. In the year 2023 we present you with food menu ideas, catering choices and unique approaches to serving coffee that will leave a lasting impression on your guests. From specialty coffee beverages to food pairings we've got your menu items covered. So grab a brewed cup of coffee. Immerse yourself in the realm of coffee catering!
Table of Contents
1. Coffee Catering
2. Brewing Excellence
3. Enhancing Your Coffee Shops Menu
4. Inventive Coffee Concepts
5. Pairing Coffee with Food
6. Beyond Nitro Coffee
7. Delectable Toppings 
8. Making Your Event Memorable 
9. Catering Trends in 2023 


1.Coffee Catering 
When it comes to event catering in 2023 including coffee's essential for providing an experience for your attendees palates – be it a corporate gathering or an informal get together – as people now have higher expectations, for delicious coffee options.
Here's how you can make it happen;
When it comes to catering events don't limit yourself to serving coffee from your standard stock or normal cafe menu. Provide a selection of coffee beverages to cater to preferences. From lattes and cappuccinos, to shots of espresso and ice coffee offer your guests a variety of choices.
Get Creative with Your Coffee Menu; Add some excitement by including options like pumpkin spice lattes, nitro coffee and specialty coffees with flavor profiles. Don't forget about those who don't drink coffee; make sure to offer tea and artisanal hot chocolate well.
2. Brewing for Excellence
The key to serving a cup of coffee lies in the brewing process. Whether you're a barista or simply passionate about coffee these brewing tips will make a difference;
Freshly Ground Beans; Start off the day by serving ground coffee beans. The enticing aroma and rich flavor will captivate your guests. Leave a lasting impression.
Experiment with Ingredients; Get creative by trying out ingredients like plant based milk and delicious syrups. These additions can transform a cup of joe into an mouthwatering experience.
On Site Brewing Experience; Consider adding a touch of elegance by offering on site brewing services. Watching a barista create their masterpiece can be an experience, in itself.
3.Enhancing Your Coffee Shop Menu
If you're the owner of a coffee shop it's essential to stay of the trends. Here's how you can elevate your café menu in 2023;
Personalized Coffee; Provide your customers with the opportunity to customize their coffee experience. Let them choose their preferred beans, brewing method and even flavorings. People enjoy having control over their cup of joe.
Refreshing Cold Brew; Cold brew coffee is a choice, for those seeking a revitalizing and caffeinated beverage. Get creative by experimenting with flavors and toppings to keep things interesting.
Food Pairings; Don't underestimate the impact of pairing food with coffee. Offer breakfast and lunch options such as sourced cream cheese bagels or eggs benedict.
Innovative Coffee Concepts
To make your café or catering event stand out innovation is key. Consider these coffee ideas;
Artistic Drip Coffee; Drip coffee doesn't have to be mundane. Train your kitchen staff to craft designs with every cup providing guests with a pleasing experience.
Flavorful Infusions; Explore flavor combinations by incorporating ingredients, like fruit or pickles. These unexpected twists can result in delicious options.
Non Alcoholic Specialties; Remember that not everyone desires alcohol at an event.
Offer a variety of coffee based beverages without alcohol that provide the level of satisfaction.
5. Pairing Coffee with Food
Enhance your coffee experience by pairing it with the food. Check out these recommendations;
Cheese and Coffee; You might be surprised. The combination of cheese and coffee is truly delightful. The creamy flavors of cheese beautifully complement the boldness of coffee.
Fresh Produce Platter; Add a platter of fruits and vegetables to accompany your coffee. It's a menu choice that balances out the caffeine boost.
Artisanal Pastries; Collaborate, with a pastry chef to curate a range of artisanal pastries that perfectly complement your coffee offerings.
6. Exploring Nitro Coffee and Beyond
Nitro coffee has taken the coffee scene by storm becoming an addition to any menu in 2023. Here's why its making such an impression;
Unique Presentation; Nitro coffee is served on tap creating a captivating experience reminiscent of having your own personal coffee bar at the event.
Lasting Impression; The smooth velvety texture and rich flavor profile of nitro coffee leave a lasting impact, on discerning coffee enthusiasts.
Customization Options; Guests can personalize their nitro coffees with toppings and syrups allowing them to customize their drinks according to their preferences.
7. The Best Toppings, for Your Coffee
No cup of coffee is truly complete without the toppings. Here's how to add some sweetness;
A Variety of Syrups; Give your customers a selection of flavored syrups to choose from ranging from vanilla to unique options like lavender or coconut. These syrups can turn a cup of coffee into an explosion of flavors.
Beyond Whipped Cream; While whipped cream is a must have consider going and beyond by offering options like chocolate shavings, cinnamon or even edible flowers for an elegant touch.
8. Creating Unforgettable Events
When it comes to catering for events in 2023 it's crucial to make an impression. Here's how you can achieve that;
Interactive Cold Brew Stations; Set up stations where guests can get creative and customize their cold brew coffee drinks. It adds an element of fun and engagement to the event.
Plant Based Milk Alternatives; In response to the rising popularity of plant based diets make sure to offer a variety of plant based milk alternatives such as almond milk, soy milk and oat milk.
Healthy Menu Options; Include a section in your menu with choices like smoothies and fruit bowls for those who prefer nutritious options.
9. Exciting Catering Trends in 2023
Stay ahead of the game with these catering trends for 2023;
Incorporating Street Food Vibes; Infuse your catering menu, with elements inspired by street food culture.
Imagine the combination of high quality coffee and delectable street style snacks.
Thoughtful Catering; Take into consideration the needs of your guests with restrictions by offering options, like gluten pastries and dairy free milk alternatives.
Supporting Businesses; Embrace the trend that conscious consumers appreciate by sourcing your ingredients whenever possible thereby supporting local businesses.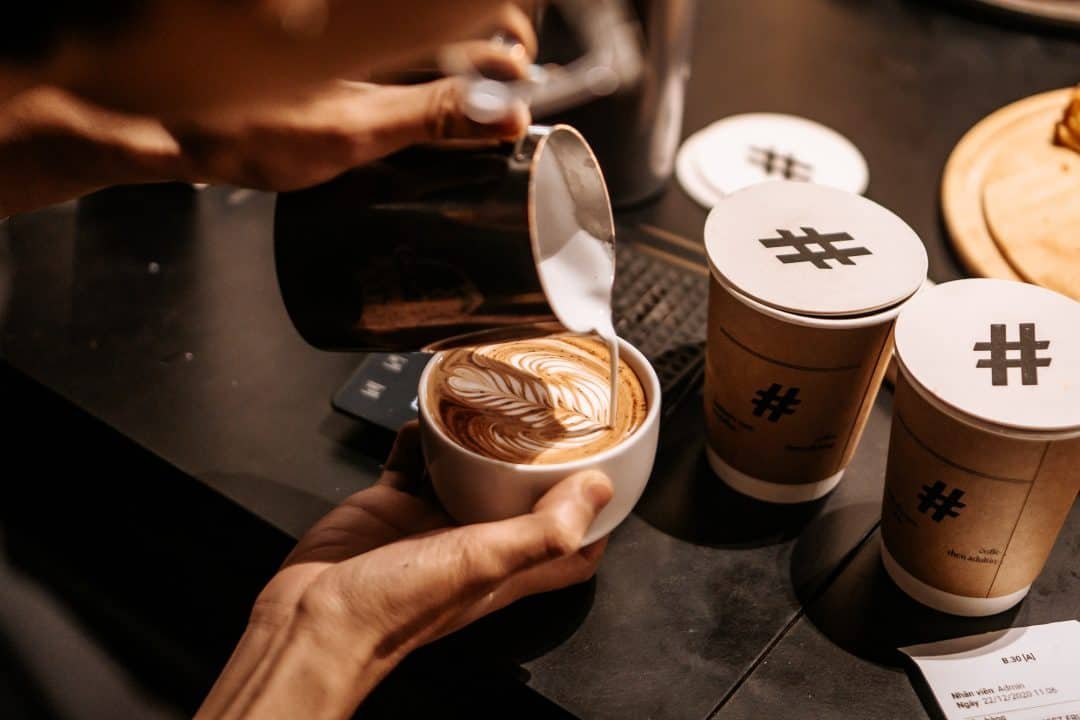 Incorporate coffee catering ideas into your parties to elevate the experience and impress guests. From speciality coffee stations to creative cocktails, there are options to cater to preferences and create a memorable coffee experience. Coffee's popularity fosters connections and provides an energy boost, enhancing any gathering. 
Embrace the art of coffee, creating a unique atmosphere for guests to savour flavours, engage in interactive experiences, and indulge in coffee-inspired treats. Perk up your party and leave a lasting impression with these memorable coffee catering ideas, whether casual or formal.