Catering Case Study L'or/Hot Pickle
Hot Pickle initially approached Pearl Lemon Catering for three speciality events to serve L'or brand espresso.
Hot Pickle is an event coordinator that works with numerous large brands that became our client when we first started catering and still comes back to us for more events.
One event would be October 18th, one on October 19th and a final event November 23rd 2022.
The original scope of work was to include:
1 day of team training

3 pop up events

Help with floorplan/layout coordination

Helping build the menu

Sending glass and crockery samples for approval

Mixing drinks

Serving drinks

Preparing coffee drinks
This would then move into having additional popup events after the first 3 dates.
Below is the original proposal sent via email and agreed upon:
The total is: £37,049
Staff: £21,924
Event Costs: £11,625
Training Costs: £3,500
Stock Costs: To Be Quoted Separately
Contingency planning: Please keep up to £4,000 aside
Staff breakdown;
I've calculated 4 people at:
12 hours per day Mon-Sat  &
7.5 hours Sunday
(9.30 – 20.30 Mon- Sat is 11 hours of total time – but as we'll need to do our own prep prior to arrivals – additional equipment, stock etc – 30 mins solo – also there's a handover period when staff start the 2nd shift of 30 mins so 12 hours overall; Sun same principle so 11.00 – 18.30)
There are 33 days in total (including 4 Sundays)
So with 4 people on shift through the whole period at £13.50 per hour (just including tax/nic we have to pay also so £13.50 + £1) = it is:
29 days x 12 hours per day x 4 people x £14.50 per hour = £20,184
4 (sun) days x 7.5 hours per day x 4 people x £14.50 per hour = £1,740
Total = £21,924
Event Costs
Equipment (commercial frothers, milk jugs, misc. coffee kit) – £2,475 / £75 per day
Training (on product, relationships etc) – £750
Recipe ideation – £500
Glassware & crockery – £3,300 / £100 per day
Planning and preparation (remotely via Teams/doc-prep) £1,100
Setup, packup, transport £1,000
Ongoing Support Remotely/In-Person £2,500 (issues with stock, equipment, staff sickness, covering other elements of the popup, changing requirements, changing drink items)
Total: £11,625
Training Costs
Our inhouse knowledge of L'or in general i.e the company, the coffee, the notes etc – and being able to deliver this to customers whilst serving them using the home machine  1,250
Intimate knowledge of the L'or professional home machine, how it works, additional equipment to use alongside it etc – i.e being 'home-based' coffee experts – 750
Our knowledge of coffee, cocktails and mocktails delivered across 33 days (i.e coffee history, coffee cocktails, the history of specific drinks, and general coffee knowledge – 1,500
Total: £3,500
Costing out the ingredients was probably one of the most complex and involved processes for Deepak, Axel and Lydia.
While Axel and Lydia worked out the menu for the core events, the Hot Pickle team also sent ingredient lists for a few popups as well. 
This meant Lydia had to hunt down where to purchase each item, work with Axel on how many projected serves per drink were going to be done, then take that and work out how many bottles of everything to get then order.
Deepak ended up delivering two different cost calculators to the Hot Pickle team as a rationale for the service price.
The entire process took about 21 hours of work to cross check everything chosen at set price points would arrive in time and aligned with everything the Hot Pickle team wanted.
Something Axel and Lydia ended up working on together for this project was taking the menu and provided L'or flavour wheel and building a rationale for what pod will go with what drink.
But first, the menu. Axel spent a few days solo looking over the most popular cocktails and mocktails AND most popular ones that included coffee.
From this the menu list was built out to:
Espresso Martini

Negroni

Kahlua

Mock Espresso Martini

Mock Oldfashioned 

Mock Coffee Sour Tonic
This blend would allow for a variety of cocktail drinkers to find something they like whether it is bold or classic, fruity or non-alcoholic.
From here Lydia then stepped in. Lydia spent an entire day comparing the flavour wheel to the product descriptions to put together the rationale. The Hot Pickle team needed to see a different pod used with each drink and also see why.
One example was Onyx was used with the old fashioned. This was because Onyx is their extra dark, bold roast and old fashioned are made with whiskey (also dark and bold). This would allow the coffee to substitute the alcohol and still make a delicious drink.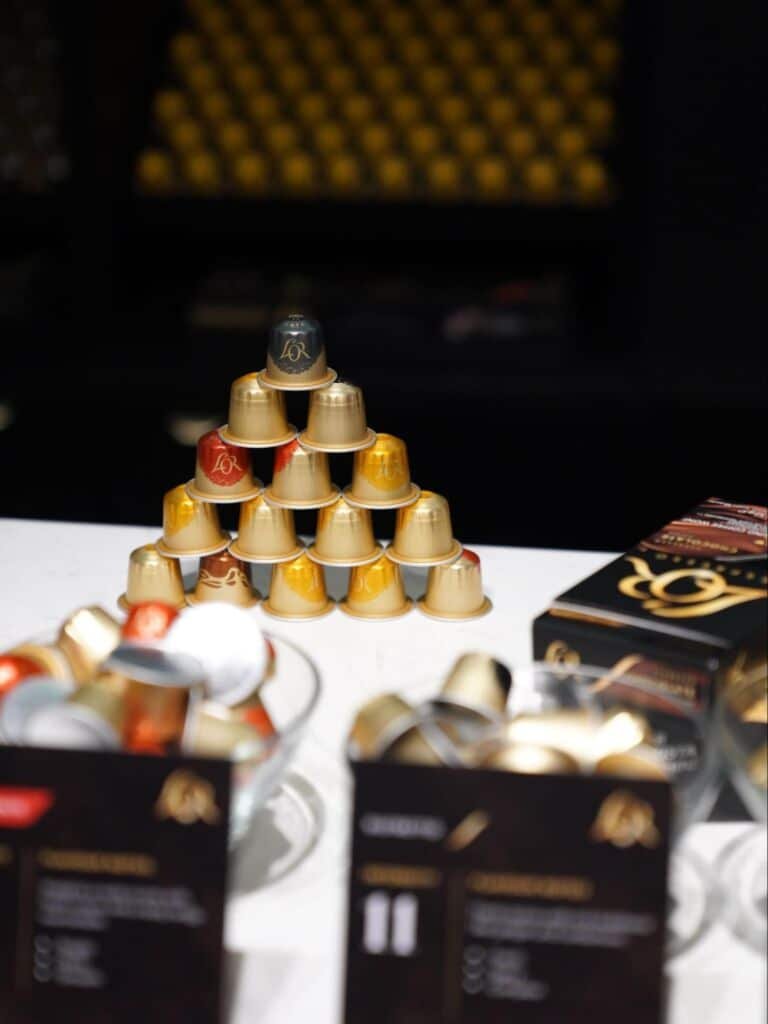 A sample of those can be seen below.
We built a great menu to present the Hot Pickle team that was then approved for serving.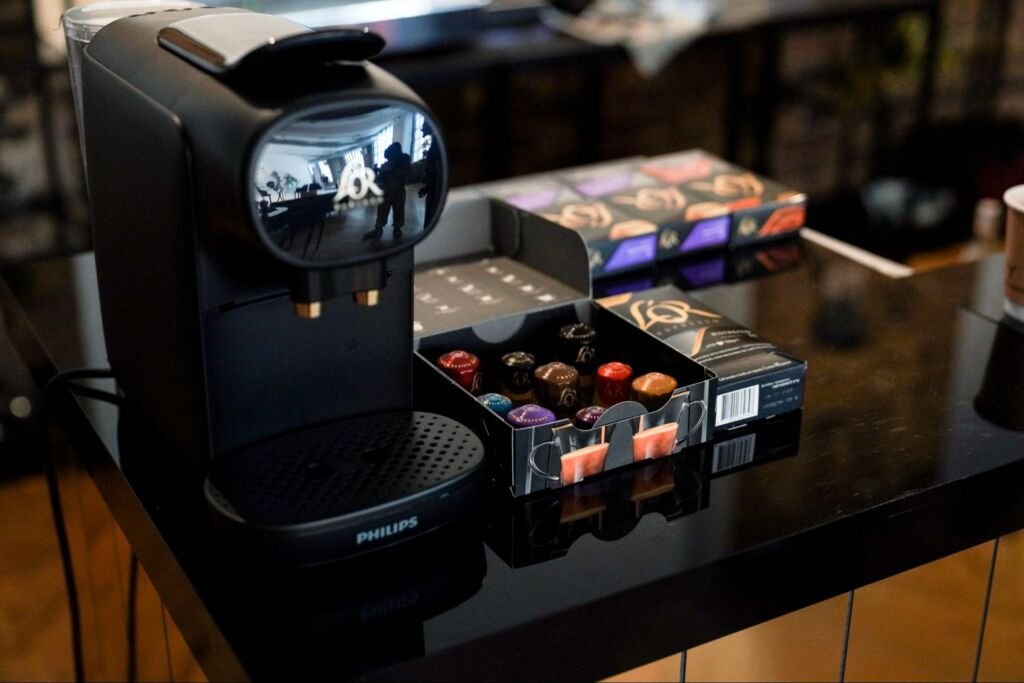 With this also meant we needed a glass for each drink to highlight its style. Old Fashioneds needed classic whisky classes and we needed clean martini glasses for our espresso martinis.
After a few days of hunting and presenting options. Lydia was able to present 12 glass options to the Hot Pickle team that they were able to pick and choose from. Once the glasses and plates for truffles were picked, it was up to Dee and Axel to coordinate with Lydia on ordering them and ensuring nothing broke and everything was transported to the job site.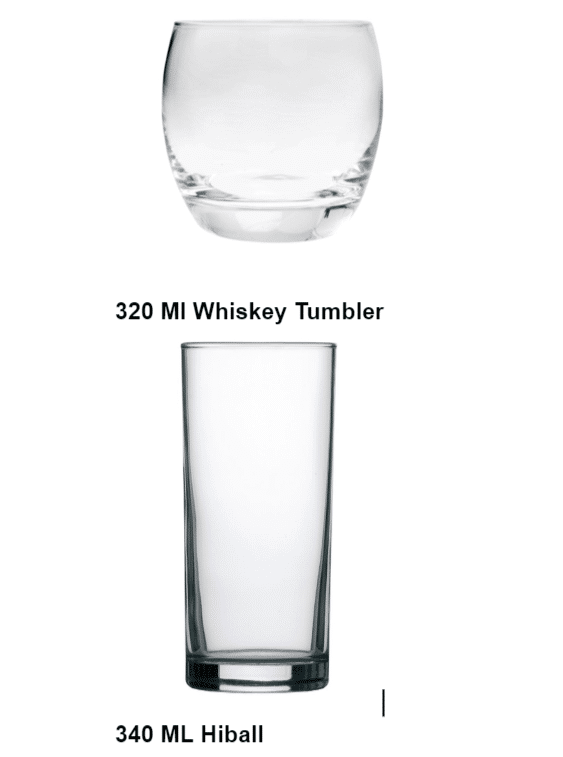 Aside costing, planning and getting ingredients and glassware approvals, it was a long month of planning leading up to this event.
Our team also had the pleasure of attending a few training events to learn more about the L'or brand so we could talk in depth with people about the origin, the flavours and anything that may come up.
We also had a few practice runs in our cafe before the event so everyone that was mixing and serving knew exactly how each drink should be made, taste and look.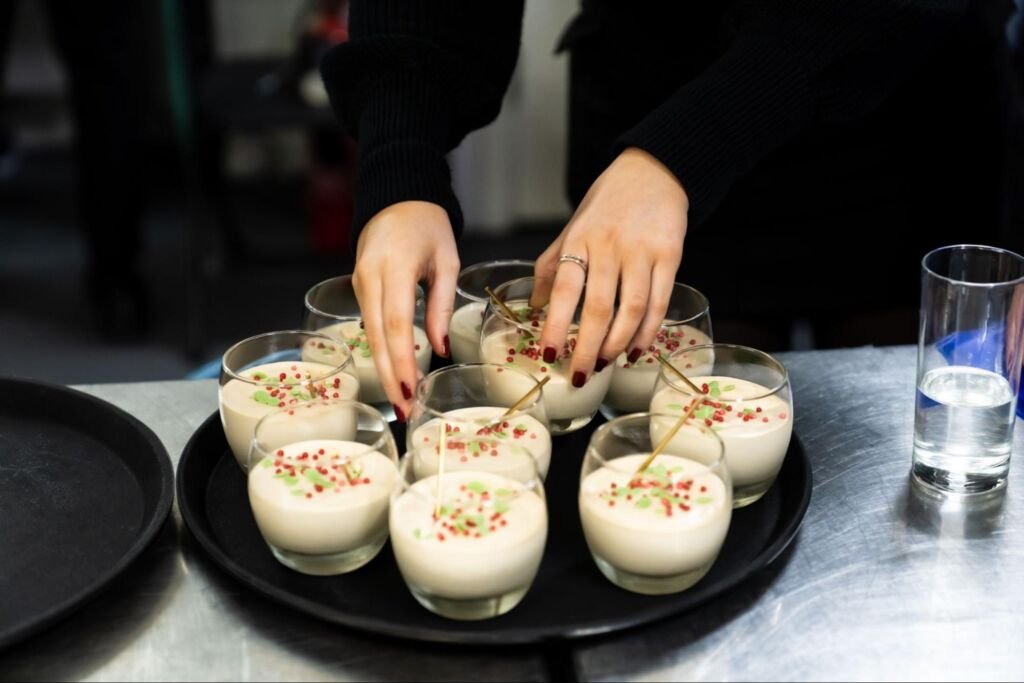 Learning so many new drinks and making things extra pretty for this event was a great learning experience for the team.
One last step we helped with before the event was help design and confirm the best possible floorplan to allow for the most movement, ease of service and be able to store everything as needed.
We were able to come up with the below layout adn it ended up working very well.
The team had a great time at the event. After figuring out all the costing, transportation and ordering it was pretty smooth sailing.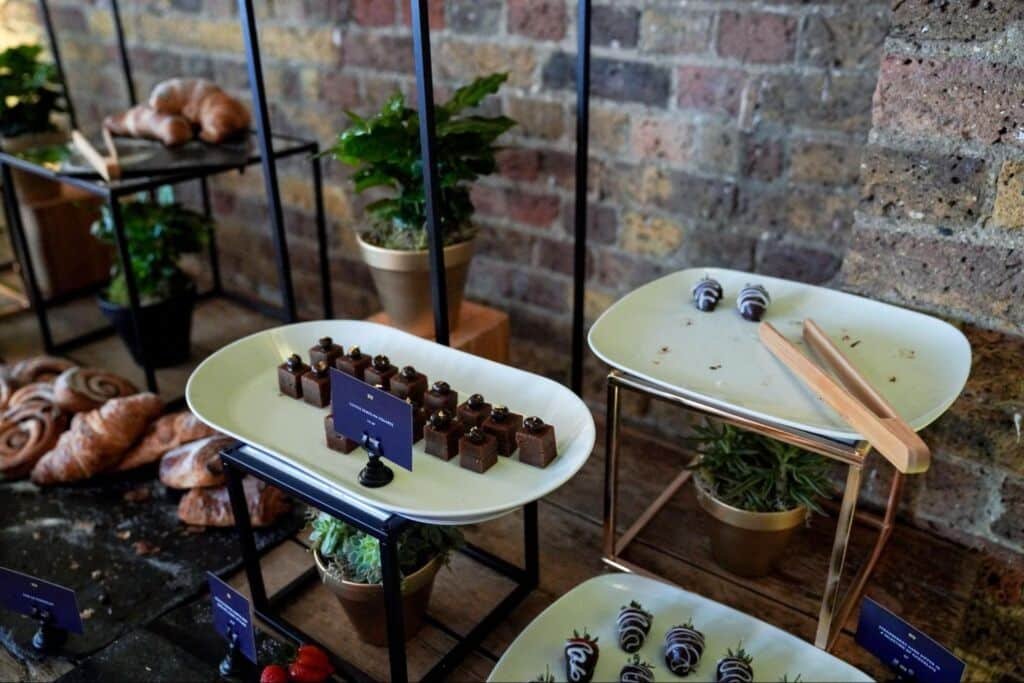 Team members had the pleasure of serving canapes and other nibbles. Getting to participate in special events and make new exciting drinks was a highlight for most of the team.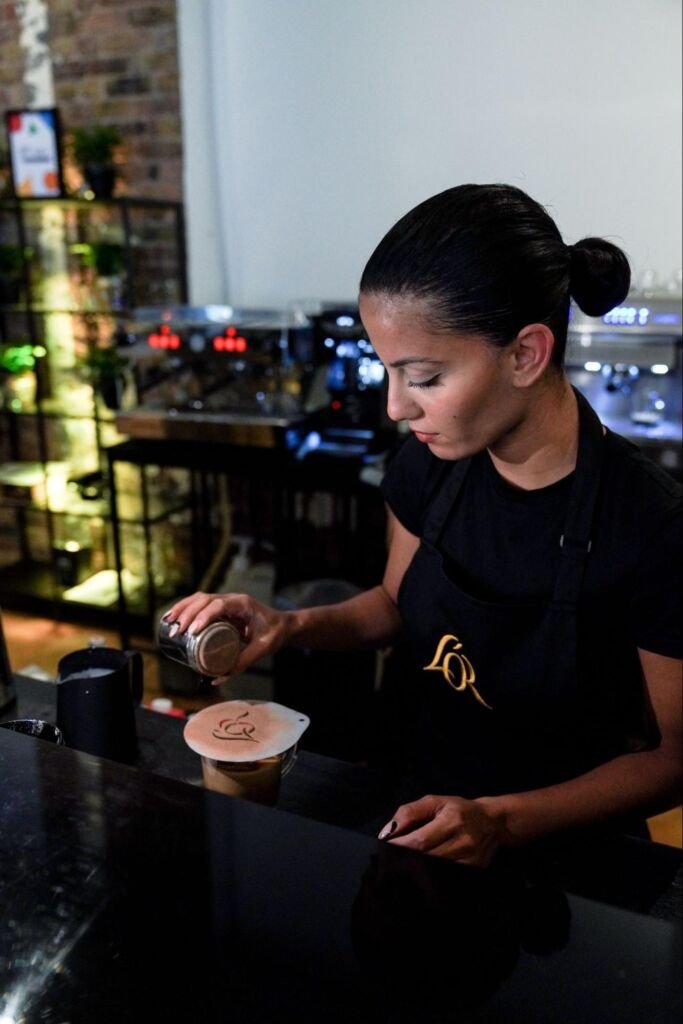 Some of the days were long with hundreds of coffee and cocktail serves done over the course of the event.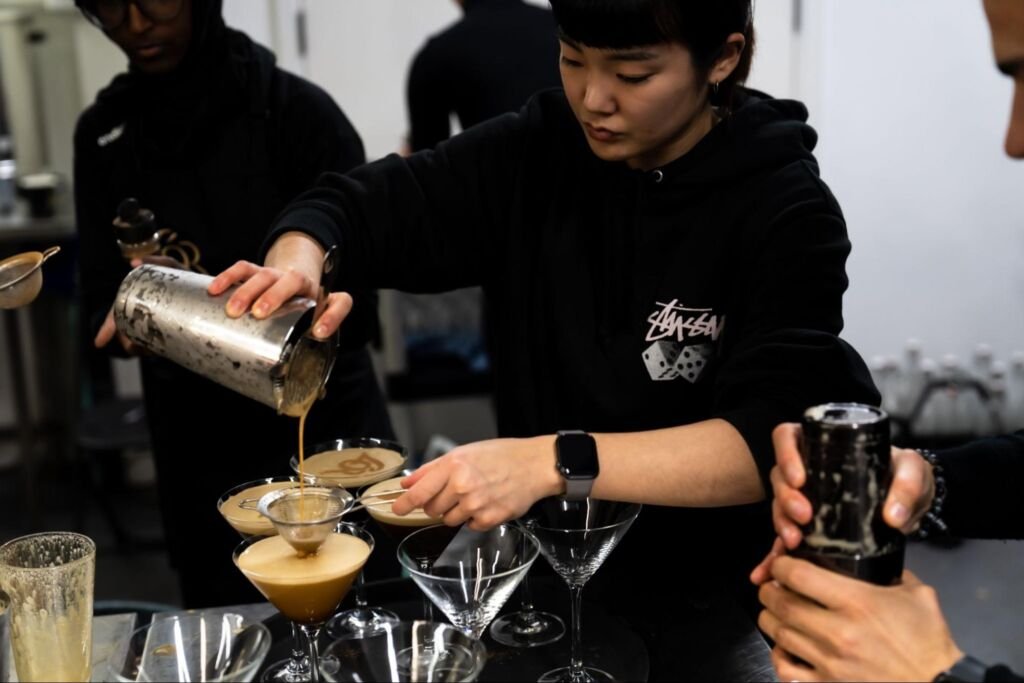 It was a great learning experience, especially figuring out how to batch create each type of drink en mass so the team could walk out with fresh and ready cocktails.
Crockery and glassware stood as the greatest hurdle during this event. The sheer amount of breakables to order left us with high risk of not having enough if something happened to any of the glasses. We decided to order 10% more than needed of each glass type as a safe guard. Then there was transportation. It was ALOT of glasses; our cases ended up not fitting the cups despite being ensured they would. This meant carrying shipping boxes of glasses and hoping for the best. At the end of the event we only ended up losing 4 total glasses.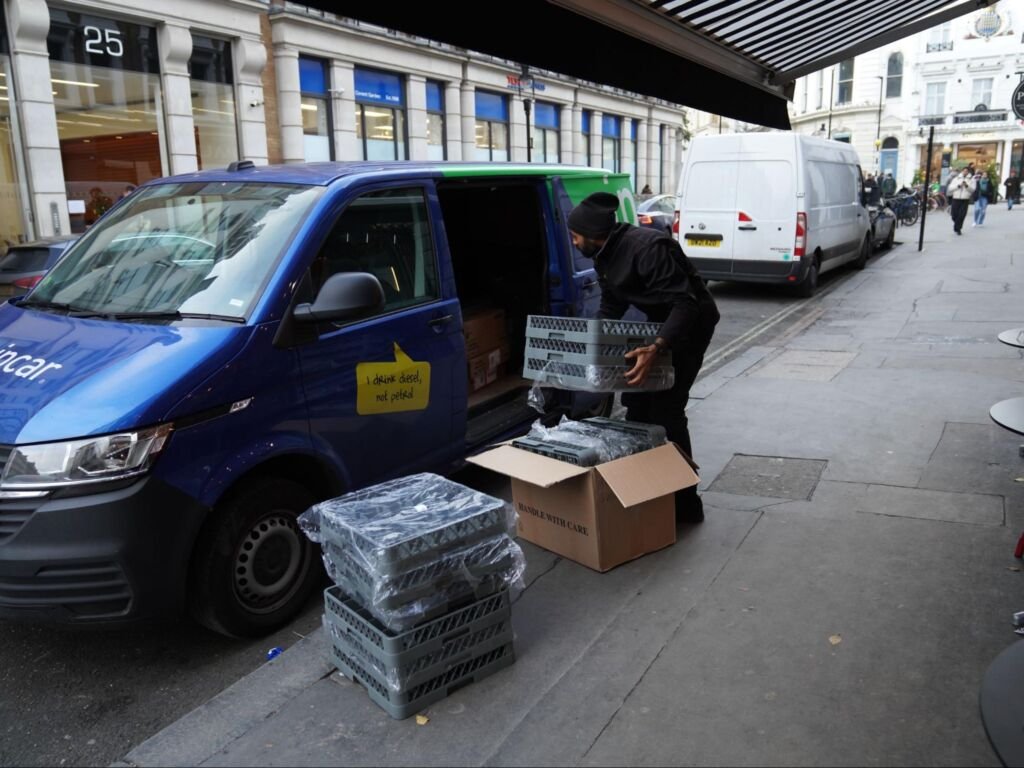 Overall the event was a massive success. This event lead to additional popups with Hot Pickle through the end of the 2022 year.
We cherish this partnership we have created with this client as they continue to come back for more events. Just to start we have an event slotted for July 2023 now as well.