Catering Case Study BBQ Serving Staff
Maria with Workplace UK approached Jude in August of 2023 to have some of our staff help out at a less formal corporate bbq event.
This was a staffing event for us to be barbeque staff for a work event. It was to take place outside to be able to take full advantage of the sunny day ahead.
The task at hand was clear-cut and comprehensive. We agreed upon a well-defined scope of work:
Grill and Serve: Two of our adept staff members were to take charge of the grill, ensuring perfectly seared delights for the eager guests.
Prep Food: Meticulous food preparation was on the agenda. It wasn't just about grilling; it was about crafting flavors and presentation.
Help Clean Up: Beyond the gastronomic delights, our team was ready to shoulder the responsibility of post-event cleanup, leaving the venue as pristine as we found it.
This was more than just clocking in; it was about creating an unforgettable culinary experience. Given that it was an outdoor event, our role extended beyond just grilling; we were also responsible for delivering sizzling dishes to the palates of the 50 guests.
Unlike some events that require extensive menu planning and preparation, this one didn't demand too much lead time. Typically Lydia and Axel spend days meticulously designing menus and crunching numbers, but this occasion required a more straightforward approach.
As the event grew closer we kept close communication with Maria through Whatsapp to be sure everyone was on the same page.
Since this was primarily a staffing gig, our primary focus was on the culinary aspects. We embarked on a veggie prep mission to cater to both cold dishes and those destined for the grill. Armed with aprons and enthusiasm, we arrived slightly ahead of time, reviewing the host's preferences before diving into the culinary symphony.
Two dedicated BBQ setups awaited us, one for beef and one for chicken. Our preparations were tailored to meet the menu's demands, featuring delectable beef burgers, succulent chicken patties, and a colorful array of grilled vegetables.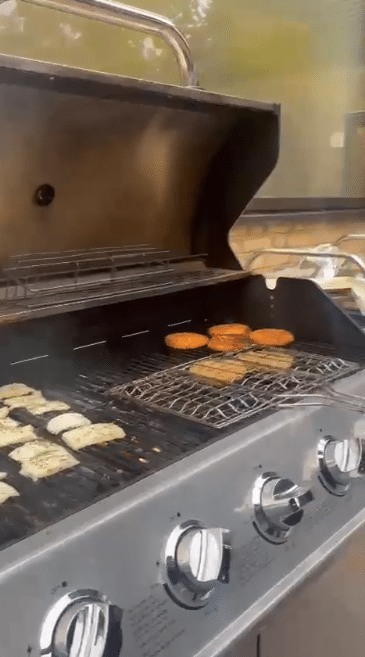 No event is without its fair share of challenges, and this BBQ soirée was no exception. One of the most notable hurdles was a substantial delay in receiving the event menu. While our grill masters managed to keep the burgers and food sizzling to perfection, having more precise information about the supplied ingredients would have been invaluable. This situation was rather unique for us, as we usually delve into extensive menu planning and procurement.
Another obstacle we encountered was related to the gas grill, which seemed a tad reluctant to reach its desired temperature promptly. This resulted in a few delays in expediting the food service. However, our seasoned team exhibited resilience and resourcefulness, ensuring that the overall experience remained enjoyable, albeit not entirely without hiccups.
Despite the challenges faced, our team emerged victorious, showcasing their culinary prowess and adaptability. Even with the grill hiccups and some speed bumps along the way, we managed to deliver a gastronomic extravaganza that left the guests delighted. 
The smiles and satisfied appetites spoke volumes about the success of our endeavor, affirming our commitment to turning any event into a memorable culinary experience.